Vegetation Inventory and Map for Dry Tortugas National Park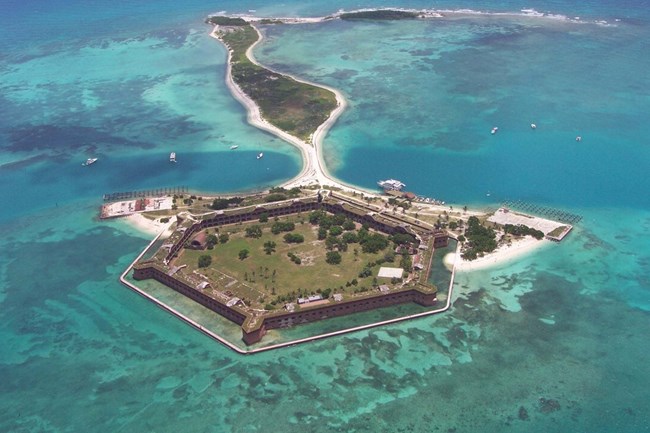 Overview
The variety of vegetation that flourishes at Dry Tortugas National Park is influenced by the area's unique combination of subtropical climate, extreme weather events, harsh maritime environment (sun, sand, and salt), and history. Both native and nonnative plant species compete for the same basic resources: space, sunlight, water, and nutrients. Of the 125 plant species reported in Dry Tortugas National Park, 81 species are of exotic origin; the result of accidental and deliberate introduction by man during the past century. The smaller islands consist mainly of native species, while the larger island, with their long history of human habitation and disturbance, have a substantially larger abundance of exotic species.
The Dry Tortugas National Park Vegetation Inventory Project delivers many geospatial and vegetation data products, including an in-depth project report discussing methods and results, which include descriptions to vegetation associations, field keys to vegetation associations, map classification, and map-class descriptions. The suite of products also includes a database of vegetation plots, and accuracy assessment (AA) sites; digital images of field sites; digital aerial imagery; digital maps; a contingency table listing AA results; and a geodatabase of vegetation, field sites (vegetation plots, and AA sites), aerial imagery, project boundary, and metadata.
Products
The products of vegetation mapping projects are stored and managed in the National Park Service's Data Store, a repository for documents and publications relating to park resources. From the highlighted items below, click on the type of information you are looking for.
Last updated: September 24, 2018