Vegetation Inventory and Map for Buck Island Reef National Monument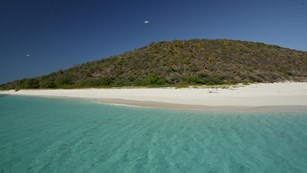 Overview
Subtropical dry forest covers much of the landmass of Buck Island Reef National Monument, but this is a relatively recent development. The vegetative appearance of Buck Island has changed drastically over the past 250 years. Over 228 species of plants have been identified on Buck Island, 180 of which are native. However, much of the island is today covered by shrub thickets in various stages of natural succession, as the former hardwood forest species re-establish themselves.
The Buck Island Reef National Monumnet vegetation mapping project delivers many geospatial and vegetation data products, including an in-depth project report discussing methods and results, which include descriptions to vegetation associations, field keys to vegetation associations, map classification, and map-class descriptions. The suite of products also includes a database of vegetation plots, verification sites, validation sites, and accuracy assessment (AA) sites; digital images of field sites; field data sheets; digital aerial imagery; hardcopy and digital maps; a contingency table listing AA results; and a geodatabase of vegetation and land cover (map layer), field sites (vegetation plots, verification sites, validation sites, and AA sites), aerial imagery index, project boundary, and metadata.
Products
The products of vegetation mapping projects are stored and managed in the National Park Service's Data Store, a repository for documents and publications relating to park resources. From the highlighted items below, click on the type of information you are looking for.
Last updated: October 16, 2018