Vegetation Inventory and Map for Black Canyon of the Gunnison National Park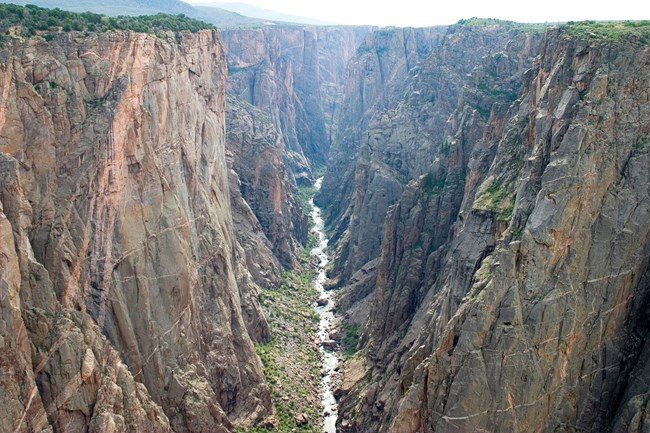 Overview
Black Canyon of the Gunnison National Park was established as a monument in by President Herbert Hoover on approximately 8,397 ha for "the preservation of the spectacular gorges and additional features of scenic, scientific, and educational interest". In 1999, Black Canyon of the Gunnison was designated a national park, with a total of 4,047 ha of wilderness added to the park over the last 75 years. It now covers 12,444 ha, of which nearly half is officially designated as wilderness. The area represents portions of the Upper and Middle Gunnison Basins and the landscapes are characterized by river valleys, hills, ridges, plateaus, mountains, and deep, steep-walled canyons. Woodlands and shrublands dominate the vegetation in addition to patches of grassland and sparsely vegetated badlands and rock outcrops.
The Black Canyon of the Gunnison National Park vegetation mapping project delivers many geospatial and vegetation data products, including an in-depth project report discussing methods and results, which include descriptions to vegetation associations, field keys to vegetation associations, map classification, and map-class descriptions. The suite of products also includes a database of vegetation plots, verification sites, validation sites, and accuracy assessment (AA) sites; digital images of field sites; field data sheets; digital aerial imagery; hardcopy and digital maps; a contingency table listing AA results; and a geodatabase of vegetation and land cover (map layer), field sites (vegetation plots, verification sites, validation sites, and AA sites), aerial imagery index, project boundary, and metadata.
Products
The products of vegetation mapping projects are stored and managed in the National Park Service's Data Store, a repository for documents and publications relating to park resources. From the highlighted items below, click on the type of information you are looking for.
Last updated: October 16, 2018