Vegetation Inventory and Map for American Memorial Park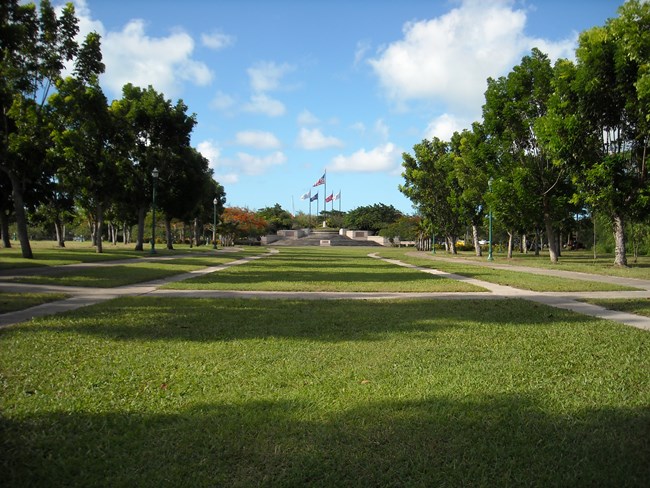 Overview
American Memorial Park, located on the island of Saipan in the Northern Mariana Island, was established in 1978 to commemorate those who lost their lives on the Mariana Islands in military campaigns during World War II. Designated as a "living memorial," American Memorial Park protects historical and cultural sites and provides recreational areas for the public.

American Memorial supports over 128 species of vascular plants, including examples from coastal strand, mangrove/swamp, and woodland/forest communities. Much of the landscape has been severely altered and many non-native species dominate the park's vegetation. However, remnant native mangrove forests persist and efforts are made to restore altered areas. Woodlands are generally dominated by gagu, an indigenous tree that often grows with non-native trees or shrubs such as kamachile, royal poinciana or tangan-tangan. Introduced grasses, such as Australian beardgrass, Napier grass and Hilo grass, are common in semi-natural communities and manicured lawns. To better understand the distribution of the plant assemblages located on this site, the National Park Service, Pacific Island Network, Inventory and Monitoring Program conducted a vegetation inventory project.
Products
The products of vegetation mapping projects are stored and managed in the National Park Service's Data Store, a repository for documents and publications relating to park resources. From the highlighted items below, click on the type of information you are looking for.
Last updated: September 20, 2018