Vegetation Inventory and Map for Abraham Lincoln Birthplace National Historic Park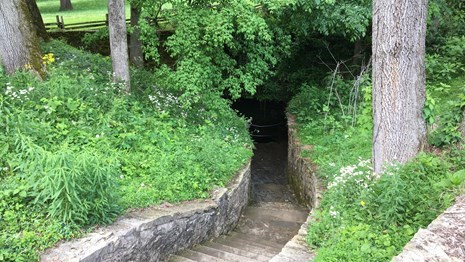 Overview
Although Abraham Lincoln Birthplace National Historic Site is known for its historic importance, the park also contains some significant natural resources such as limestone cedar glades and a large calcareous seep.
The site currently consists of two parcels totaling about 344 acres. Both units of the park occur in a limestone karst region. The Birthplace Unit is located within the historical Sinking Spring Farm where Abraham Lincoln, 16th president of the United States, was born in 1809. Now approximately 116 acres, the unit is managed for public visits and includes buildings, picnic areas, trails, lawns, and pastoral landscapes. It retains few of its historical features from the early 1800s and few undisturbed natural forest communities.
The Boyhood Home Unit at the historic Knob Creek Farm has a very different topography and vegetation than the Birthplace Unit. This 228-acre undeveloped farm was acquired by the park in 2001, and efforts are being made to interpret the cultural and natural resources in a manner consistent with the land's historical past. The Boyhood Home Unit has forested, natural, and seminatural vegetation, with steep forested knobs (small rounded hills arising starkly above adjacent landforms), gorges, narrow valleys with rich agricultural soil, and ecologically important limestone slope glades.
Products
The products of vegetation mapping projects are stored and managed in the National Park Service's Data Store, a repository for documents and publications relating to park resources. From the highlighted items below, click on the type of information you are looking for.
Last updated: August 25, 2023