Vegetation Inventory and Map for Palo Alto Battlefield Historical Park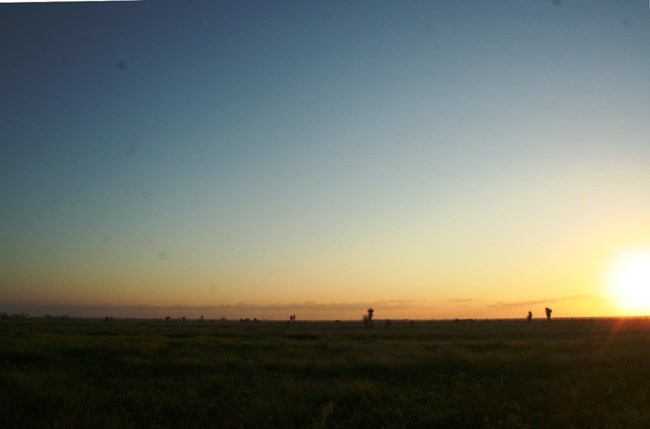 Overview
The Palo Alto Battlefield National Historical Park includes about 1372 ha of Spartina spartinae (gulf cordgrass) prairie, tamaulipan and mesquite forests, and resacas. Although native to the region, the cactus is more common now than in the past. The spread of prickly pear at Palo Alto is the result of decades of activities such as cattle ranching and ground clearing. Today, numerous dense pockets of mesquite dot the battlefield. This was not the case in 1846. The battlefield then was an open prairie, a perfect place for an artillery battle. Over the years, activities like cattle ranching have helped mesquite spread onto the prairie. The park is currently working on a mesquite management plan in the hopes of restoring the battlefield to its original state.
The Palo Alto Battlefield National Historical Park Vegetation Inventory Project delivers many geospatial and vegetation data products, including an in-depth project report discussing methods and results, which include descriptions to vegetation associations, field keys to vegetation associations, map classification, and map-class descriptions. The suite of products also includes a database of vegetation plots, and accuracy assessment (AA) sites; digital images of field sites; digital aerial imagery; digital maps; a contingency table listing AA results; and a geodatabase of vegetation, field sites (vegetation plots, and AA sites), aerial imagery, project boundary, and metadata.
Products
Reports, data sets, maps, and other project results. Project completed in 2008.
The products of vegetation mapping projects are stored and managed in the National Park Service's Data Store, a repository for documents and publications relating to park resources. From the highlighted items below, click on the type of information you are looking for.
Last updated: October 18, 2018