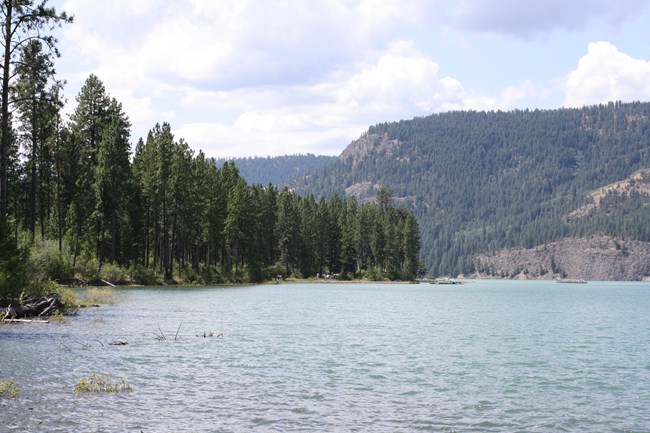 Environmental Setting
The upper Columbia River gorge, within which Lake Roosevelt is contained, stands in stark testimony to its geology and climate. The national recreation area spans three distinct physiographic provinces: the Okanogan Highlands, the Kootenay Arc, and the Columbia Plateau. The geologic features of these three regions are radically different and the juxtaposition of these landforms is a major factor that contributes to the unique character of the area.
The climate of the area changes from the south end to the north. The south is hot and dry in the summer with average annual precipitation at the dam around 10 inches. Vegetation is characterized by shrub steppe species such as sagebrush and bitterbrush. To the north in Colville, precipitation is around 17 inches per year, which is sufficient to support the ponderosa pines and Douglas-fir forests that are common to the area. Rainfall continues to increase as the lake approaches Northport.
The Lake Roosevelt watershed drains almost 45,000 square miles, 88% of which is Canada. The lake extends more than 154 miles along the Columbia River through the national recreation area and includes the lower reaches of many rivers and streams. Most of the water in the lake comes from glacial ice, lakes, and snow high in the Canadian Rockies.
Key Resources and Issues
Lake Roosevelt National Recreation Area consists of the large reservoir behind the Grand Coulee Dam and a narrow strip of land surrounding the reservoir. The Bureau of Reclamation manages the dam and water levels, and two tribes, the Colville Confederated Tribe and the Spokane Tribe, manage portions of the reservoir and associated land. In addition to extensive recreational use of the lake, managers of the recreation area oversee water quality, fisheries, and vegetation resources. Vegetation consists of grassland steppe, shrubland steppe, coniferous forest, and riparian and wetland areas.
The main natural resource issues involve water quality, fisheries, invasive plants, and recreation impacts. The Columbia River above the Grand Coulee Dam has a 100-year history of contaminants from a large lead and zinc smelter across the border in Canada, as well as shorter periods of contaminants from pulp mill operations. Other government agencies, such as the Environmental Protection Agency, have coordinated much of the research and remediation of these contaminant impacts. The reservoir and its tributaries support varied fish communities, including numerous non-native fish species. Wildfire, land use practices, and invasive plant species are the primary natural resource management concerns for the lakeshore and surrounding land areas.