Who We Are
Irina Ford, Program Manager
Irina Ford has spent over 14 years as a wildlife biologist and biological scientist with a diverse suite of natural resource related positions and multi-agency experiences. Irina began her federal career as a wildlife biologist with the US Forest Service on the Angelina National Forest in Zavalla, Texas. Throughout the years, Irina has worked with APHIS Wildlife Services in Guam as a Supervisory Biologist, the Sequoia National Forest as a Land Management Planner, and on the Coconino National Forest as a Stewardship Staff Officer. As of October 2019, Irina officially entered her new position as the SFCN Inventory & Network Program Manager in Palmetto Bay, Florida.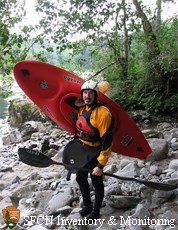 Craig Booker, Administrative Assistant
Craig Booker is a native of New Hampshire and a recent transplant to Florida, having relocated from the Seattle area, where he spent several years in the private sector following his career as a Personnelman in the US Navy. He Graduated from Florida International University in 2010 with a degree in Psychology. In his spare time, Craig enjoys spending time with his young family, traveling, camping, hiking, and especially river kayaking.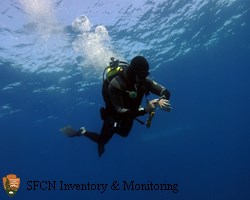 Mike Feeley, Marine Team Ecologist
Dr. Michael Feeley is a fish biologist/ecologist with previous experience with the Fish & Wildlife Conservation Commission's Fish & Wildlife Research Institute South Regional Laboratory's Marine Fisheries Research Division. He has extensive experience working in the South Florida ecosystem and the Dry Tortugas region and has also worked on fishery related issues in the U.S. Virgin Islands and Cayman Islands. His present research addresses the efficacy of the network of marine protected areas in the Dry Tortugas. His research focuses on the adult movements and spawning migrations of reef fish within the Research Natural Area of Dry Tortugas National Park and surrounding waters. He is a 2006 doctoral graduate of the Rosenstiel School of Marine and Atmospheric Science and holds a MS in Biological Oceanography from the University of Connecticut and a BS degree in Fish & Wildlife from Michigan State University.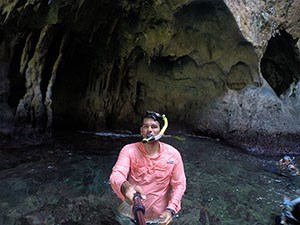 Mario Londoño, Assistant Data Manager
Mario Londoño is the Assistant Data Manager for the South Florida/Caribbean Network. Born and raised in Miami, he graduated from Florida International University with a B.A. in Geography and a M.S. in Environmental Studies. His thesis examined the spatial-temporal relationship between land use and water quality in the canals of southern Miami-Dade County. Mario first came to SFCN in 2011 starting out as a volunteer. He then transitioned into a Student Conservation Association (SCA) AmeriCorps internship with the SFCN Data Management Team, followed by a Resource Monitoring internship through Florida International University. In his spare time, Mario enjoys exploring South Florida's natural environments, both terrestrial and marine.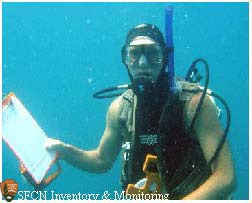 Jeff Miller, Marine Biological Technician/FIsheries Biologist
Jeff Miller has spent a large part of the last 25 years underwater. The fisheries biologist from the South Florida/Caribbean Inventory and Monitoring Network is duty stationed in Virgin Islands National Park. Jeff has studied coral reefs since graduating from Florida Institute of Technology in 1984. Beginning in the Cayman Islands, then moving to the US Virgin Islands in 1998, Jeff worked in St. Croix at the West Indies Laboratory, and later at the Virgin Islands Department of Natural Resources. In 1997, the US Geological Survey at Virgin Islands National Park in St. John (US Virgin Islands) hired him to develop prototype-monitoring protocols for seagrass, reef fish, and coral reef systems. With the completion of those protocols, he was hired by the National Park Service in 2000 to conduct monitoring within the parks of the South Florida/Caribbean Network Prototype Monitoring Program (Buck Island Reef National Monument, Virgin Islands, Dry Tortugas and Biscayne National Parks). Jeff coordinates the network involvement with numerous research partners including the US Geological Survey (USGS), the National Oceanic and Atmospheric Administration (NOAA), and several universities. Believing strongly that effective monitoring involves outreach, he has conducted several monitoring workshops throughout the Caribbean, and has given presentations at numerous scientific meetings and local community venues. In response to the coral bleaching event of 2005, he expanded annual monitoring into episodic, more than tripling the amount of monitoring in order to document the extent and effects of the bleaching on the park resources. Jeff currently lives in beautiful St. John, US Virgin Islands with his wife, Jude.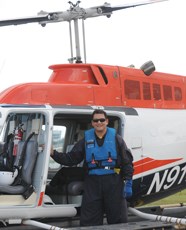 Robert Muxo, Terrestrial Biological Technician
Robert Muxo joined the South Florida/Caribbean Network as a Biological Science Technician in July 2011, to work on on the Colonial Birds vital sign project. Robert is a Miami native with a keen interest in South Florida ecology. Robert has a Bachelor in Arts in Environmental Studies with a minor in Biology. He also completed a Graduate Certificate in Environmental Studies from Florida International University. Robert has field experience from the Research Education for Undergrads (R.E.U.) program at Florida International University. He also has experience collecting water and soil samples from contaminated gas station sites as part of their remediation process.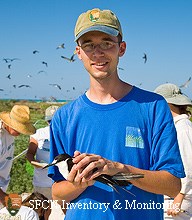 Judd Patterson, Data Manager
Judd Patterson is currently the Data Manager for the South Florida/Caribbean Network. He grew up on the prairies of Kansas and obtained a B.S. in Biology from Kansas State University. As an undergraduate he tackled a broad range of research topics including Snowy Plover nesting success, tallgrass prairie restoration, and endocrine-disrupting compounds in drinking water. Judd started with the SFCN in 2005 as a Research Assistant creating submerged topography (LIDAR) maps before he returned to Kansas State for a M.A. in Geography. His thesis combined several of his interests in a study of bird migration phenology and climate change in the Great Plains. Judd once again joined the network as the GIS Specialist in 2007. In his time off he enjoys adventures both near and far as he pursues his passion for nature photography and birding.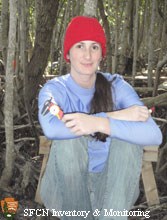 Michelle Prats, Terrestrial Biological Technician
Michelle Prats is currently a biological technician with the network's terrestrial team. Her projects of focus are Periphyton monitoring and Soil Elevation Table (SET) monitoring. Michelle is a Miami native and has earned a B.S. in Environmental Science from Florida International University and a B.A. in English Literature from the University of Miami. She has been working with the network since 2011 under various internships such as the George Melendez Wright Climate Change Internship through the National Council for Science and the Environment (NCSE), and the Research Experience for Undergraduates Internship (REU) as part of the Florida Coastal Everglades Long Term Ecological Research Network (FCE-LTER) Program. Through the years, she has worked on projects such as the Everglades NP and Big Cypress National Preserve Vegetation Map, Mangrove Marsh ecotonal monitoring, Electrofishing, and the Schaus butterfly restoration project. It is her hope to one day be working more directly with the public to communicate the science behind South Florida ecosystems and to create a sense of stewardship and love for natural spaces.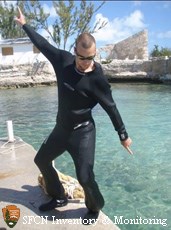 Lee Richter, Marine Biological Technician
Lee was initially drawn to the marine science field during his time in the School for Field Studies study abroad program in the Turks and Caicos, while earning his BS in Environmental Science at Brown University. He later worked with the South Florida/Caribbean Network in Miami as an intern for two years. Following the internship, he began working as a contractor for the National Oceanic and Atmospheric Administration's (NOAA) Southeast Fisheries Science Center, studying recovering populations of the threatened Staghorn coral throughout the Florida Keys and the Caribbean. After a year and half working with the corals, he returned to the network to continue inventory and monitoring research at their location in St John. While marine science is his passion, in his spare time Lee likes to spend as much time outdoors and in the water as possible, either diving, kiteboarding, hiking, biking, swimming, or chasing frisbees whilst barking in an open field.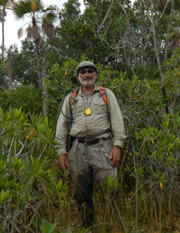 Pablo Ruiz, Vegetation Mapping Project Manager
Pablo Ruiz comes to us from Florida International University where he worked as a Scientific Project Manager. Pablo has a B.S. degree in Environmental Studies with a minor in Biology and a Graduate Certificate in GIS from Florida International University. Pablo has logged nearly two decades of vegetation monitoring and assessment in the wetlands, mangroves, and upland forests of: Everglades National Park, Biscayne National Park, Big Cypress National Preserve, the Florida Keys, and the Water Conservation Areas. His expertise lies in vegetation mapping and remote sensing. In 2008, he created a vegetation map of Biscayne National Park. More recently he has been involved in mapping and assessing fire damage via remote sensing on tree islands in Everglades National Park and upland hammock forests in Big Cypress National Preserve following the Mustang Corner Fire (2008) and the Deep Fire (2009). He has made several vegetation maps of the Loxahatchee Impounded Landscape Assessment (LILA) study site and the Primary Sampling Units (PSUs) associated with years 1-3 of the Landscape Pattern-Ridge, Slough, and Tree Island Mosaic Monitoring and Assessment Plan project. Currently, Pablo is working with the United States Army Corps of Engineers (USACE) to map Everglades National Park and Big Cypress National Preserve.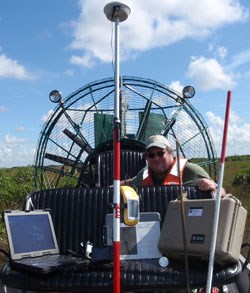 Brooke Shamblin, Terrestrial Biological Technician/Botanist
Brooke Shamblin spent two years in the Student Conservation Association (SCA) working on Hammock composition studies in Biscayne National Park. He also worked 8 years with Dr. Joel Trexler as a field technician focusing on freshwater fish and invertebrate monitoring in the Everglades. Later, Brooke served as lab manager for Dr. Joel Trexler before moving back into botanical work with Dr. Mike Ross. He also has 2 years of experience as a botanist for Mike Ross with emphasis on tree island composition within Shark Slough. Brooke officially joined the network the last day of August 2008. Brooke received a B.A. degree with a minor in Botany at Florida International University.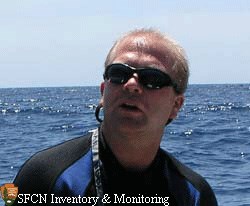 Rob Waara, Marine Biological Tehnician
Rob Waara has been working in the marine field for the past 20 years. After graduating with a Bachelors of Science in Biology from Northern Michigan University he moved to the Seattle area where he started to work for the National Oceanographic and Atmospheric Administration in their Alaskan observer program on the Bearing Sea. Then after leaving the frigid cold of the Bearing Sea and Seattle he moved to St John, US Virgin Islands. While there he worked for various marine divisions through out the years starting with the National Park Service, National Biological Service, National Biological Survey, and finally the National Park Service Inventory and Monitoring Division. He then moved to the Miami area to work in the main office of the South Florida/Caribbean Network and attend the University of Miami's Rosenstiel School of Marine and Atmospheric Science, where he earned his Master's of Science degree in Marine Affairs and Policy.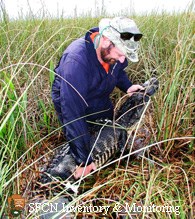 Kevin Whelan, Terrestrial Team Ecologist
Kevin R. T. Whelan, Ph.D. is an Ecologist for the South Florida Caribbean Inventory and Monitoring Network. His general interests are in the areas of disturbance ecology, restoration management, and hydrological impacts on wetland ecosystems (both flora and fauna). Dr. Whelan has over 20 years of experience as a field biologist working mainly in South Florida, with additional research experience in Costa Rican tropical rainforest, cloud forest, dry forest, and seasonally flooded wetlands; Mexican cloud forest, and Alaskan high arctic tundra. Research topics have included population dynamics of flora and fauna, hurricane and lightning disturbance, global warming, and restoration ecology. His professional goals are to continue to study disturbance ecology with emphasis on the effects of restoration across multiple scales from individual populations, to communities, and ecosystem. The South Florida research experiences instill that everything is affected by regional dynamics crossing both political and natural boundaries. Additionally, Dr. Whelan is affiliated faculty with the Environmental Studies Department at Florida International University, and an associated researcher with The Florida Coastal Everglades Long Term Ecological Research.
South Florida/Caribbean Network Interns
-Community Team
Samantha Lamosa, Florida International University Research Monitoring Intern (ReMI)
Kevin Montenegro, Florida International University Research Monitoring Intern (ReMI)
-Marine Team
Delsabriana Gonzales, University of Miami Rosentiel School of Marine and Atmospheric Science
Amelia Lynch, University of Miami Rosentiel School of Marine and Atmospheric Science
Florida International University's Research Monitoring Intenship Program (ReMI).
Last updated: October 27, 2020