Wadeable Stream Monitoring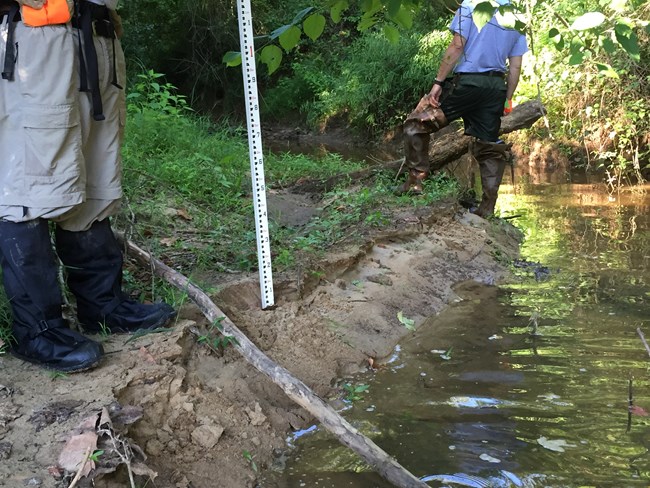 Wadeable streams and adjacent vegetation serve as habitats for a variety of local wildlife and plants. These small streams provide resources for native fish such as the blackbanded darter, and provide water and shelter for wildlife such as deer. Any negative change will result in losses for species that rely on these streams directly or indirectly for sustenance. Additionally, these streams were historically important to the development of commerce, manufacturing, and agriculture.

Wadeable streams allow visitors to enjoy the natural beauty of riverine resources by providing:
Beautiful views
Recreational fishing spots
Cultural sites
Quiet spaces to relax
Areas to watch birds or other wildlife
The condition of the streams and the habitats they provide are critical for the health of the local ecosystems and visitor enjoyment. Streams are affected by human development such as dams, flooding, drought, and changes in sediment. The Southeast Coast Network will monitor wadeable streams to track changes in bank erosion, width and depth, sediment, and watershed land use. Providing this information to park resource managers helps maintain the health and beauty of stream resources.
For more information about wadeable stream monitoring, please contact Eric Starkey.
Wadeable Stream Monitoring Reports
Last updated: April 30, 2018