Natural Resources at Hubbell Trading Post National Historic Site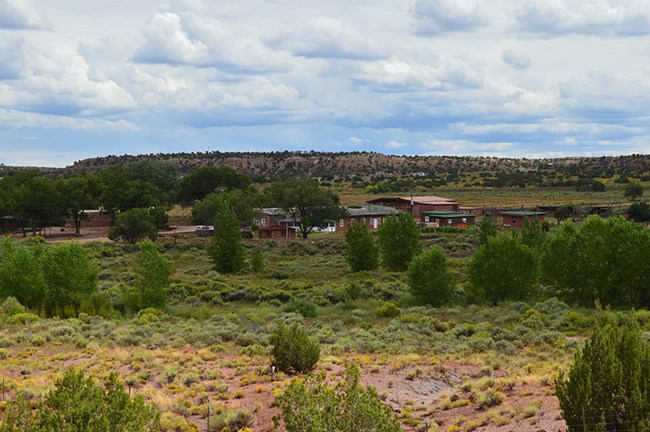 Hubbell Trading Post National Historic Site encompasses 161 acres (65 ha) on the Navajo Nation in northeastern Arizona. First designated as a National Historic Landmark in 1960, it was later designated as a National Historic Site in 1965. Located in the Ganado Valley at the base of Defiance Plateau, Hubbell Trading Post is the oldest continuously operating trading post on the Navajo Nation.
Shrubland communities predominate at Hubbell, with a small area pinyon-juniper woodland. Much of the natural landscape at the park had been heavily manipulated by humans, who grazed livestock here and cultivated the land. However, after the NPS fenced out livestock, native plants and animals became more abundant.
Hubbell Trading Post NHS supports 2 amphibians, 86 birds, 5 fishes, 4 mammals, and 4 reptile species. The main water resource in the park is the intermittent flow in Pueblo Colorado Wash.
Monitored Here
---
---
Species Lists
Select a Park:
Select a Species Category (optional):
Search results will be displayed here.

Visit NPSpecies for more comprehensive information and advanced search capability. Have a suggestion or comment on this list? Let us know.
Life Zones
Hubbell Trading Post NHS has a very narrow elevation range (6,298-6,383 ft / 1,920–1,946 m) and is situated primarily in the Pinyon-Juniper Woodland life zone. Although juniper woodlands can be seen on the surrounding hills, almost no woodlands are present in the monument due to historic land use. Hubbell Trading Post has an average annual precipitation of 10.6 inches (269 mm).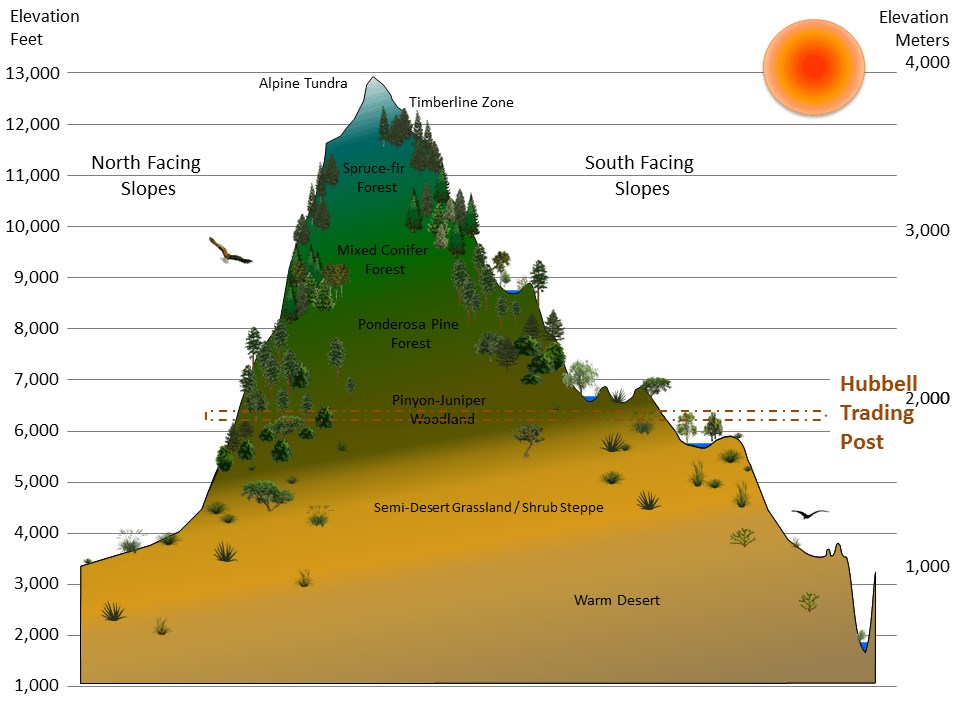 Climate Summary Chart
Charts are an effective way to summarize and graphically represent climate variables. The following chart is based on the diagrams developed for vegetation studies by Walter and Lieth in 1967. Visit our climate page for more information.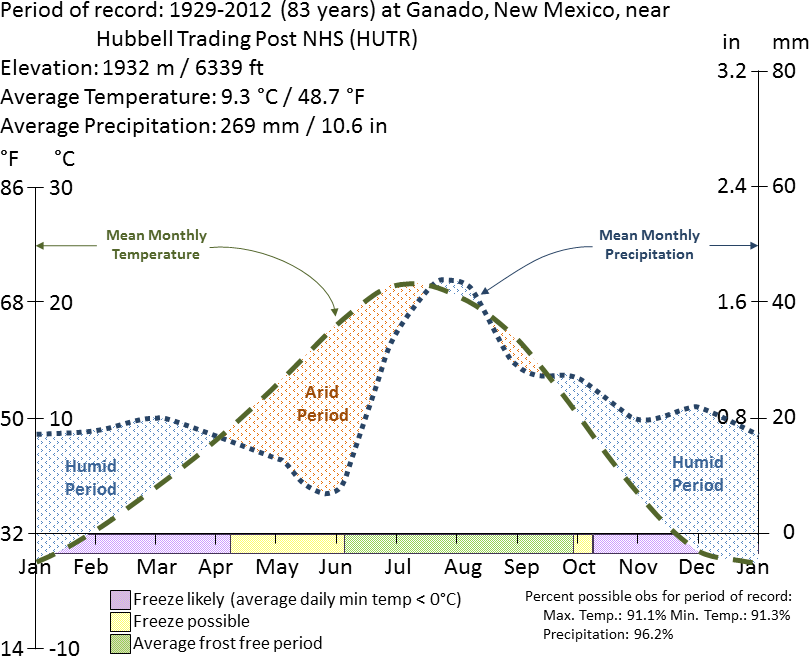 Reports & Publications
Inventories are point-in-time surveys that help us learn about the resources in our parks. Information obtained through the Southern Colorado Plateau Network's inventories of park resources helped to establish a base level of data, which has served as a starting point for our natural resource monitoring.
Our monitoring reports provide the most recent published findings from our field work.
Protocols describe how we monitor. They include a descriptive narrative of what we monitor and why, our field methods, how we analyze and manage our data, and more. All of our protocols are peer reviewed.
Last updated: November 6, 2018