Inventory and Monitoring at Pu'ukoholā Heiau National Historic Site
Pu'ukoholā Heiau National Historic Site is located on one of the driest places in the Hawaiian Islands, the northwest coast of the island of Hawaiʻi. King Kamehameha the Great's heiau, or temple, dominates the coastline, scattered coastal trees and grasses cover much of the landscape, and a small freshwater oasis juts into the waters of Pelekane Bay.
The park holds the state record for the lowest annual precipitation at 2.28 inches. Because of the desert climate, the diversity of flora and fauna is limited. Although many plant species within the park have been introduced since European contact, some trees such as the kukui date back to early Polynesian settlement.

Native flora found in this tropical desert include pili grass, milo, and 'ilima. The only endemic terrestrial mammal in the islands, the Hawaiian hoary bat, is occasionally seen. Bird life in the park is usually limited to introduced species; however, migratory shore birds and the Hawaiian owl can occasionally be seen. Black-tipped reef sharks are often observed by park visitors, along with green sea turtles, spinner dolphins, and humpback whales.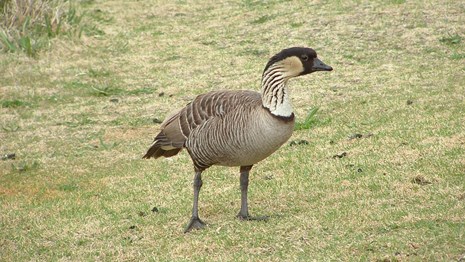 Reports & Publications
PACN I&M Inventory and Monitoring Reports, Protocols, and Articles from Pu'ukoholā Heiau National Historic Site
Last updated: November 6, 2018