Marine Fish Monitoring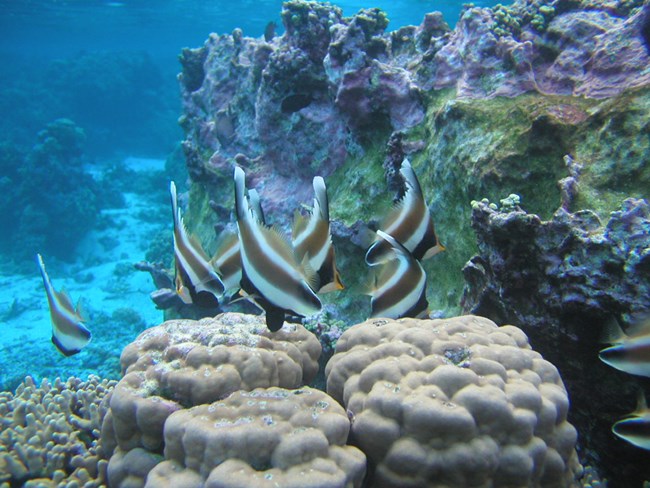 Description and Rationale
Fish are a major component of coral reef ecosystems. Reefs are highly diverse assemblages of carnivores, planktivores, herbivores, and detritovores, and they serve many ecological functions.

Fish affect reef ecosystem structure, productivity, and sustainability. Selected species can act as indicators of general reef health, environmental stress, and potential ecosystem changes.
Fishing is increasingly recognized as a principal threat to Pacific Ocean coral reefs and other marine ecosystems worldwide. Fish communities in most of the Pacific island national parks can probably be categorized as "impaired" to "seriously impaired."

The harvest of fish and other marine creatures will be addressed in a separate (fisheries-dependent) monitoring protocol, but data collected through marine fish monitoring contribute to our overall fish analyses. They provide an in-water (fisheries-independent) assessment of the size and abundance of species within the park waters of Kaloko-Honokōhau National Historical Park, Kalaupapa National Historical Park, National Park of American Samoa, and War in the Pacific National Historical Park
Monitoring Objectives
Annually determine the density and biomass of the reef fish assemblage at selected sites along an isobath of 10–20 m depth.
Last updated: August 8, 2023