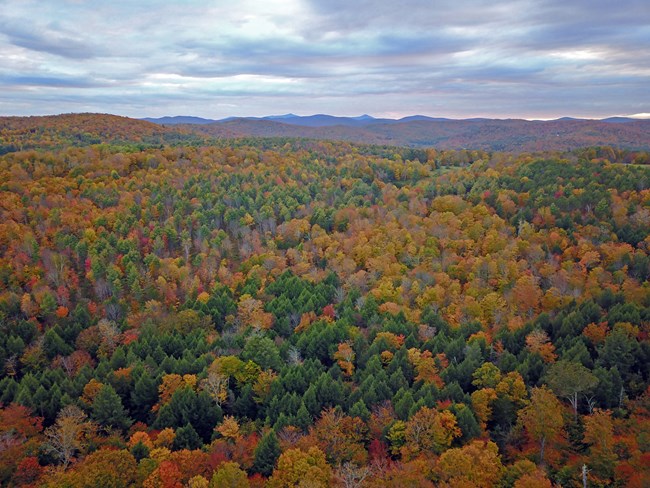 About the Natural Resources Studied and Managed in Our Parks
Diverse arrays of ecological communities occur in Northeast Temperate Network (NETN) parks. Tidal wetland and other coastal ecological communities occur only at Acadia and Boston Harbor Islands, many of which are considered management priorities and are potentially stressed by global climate change and visitor impacts. Freshwater wetlands and vernal pools were identified as management priorities for 9 of the 13 parks on which they occur. Deciduous, mixed, and hemlock forests were also listed as high management priorities by park staff and all parks have some type of forest ecosystem within park boundaries.
All the parks in the NETN are located within the temperate deciduous forest biome. Temperate deciduous forests are located in the mid-latitude areas between the polar regions and the tropic areas of the Earth. Deciduous forest regions are exposed to warm and cold air masses, which cause this area to have four distinct seasons. Temperature varies widely from season to season with cold winters and hot, wet summers. The average yearly temperature is about 10° C. The areas in which deciduous forests are located get about 750 to 1,500 mm of precipitation spread fairly evenly throughout the year. The temperate deciduous forest biome in North America occupies most of the eastern part of the United States and a small strip of southern Ontario. Dominant trees are broadleaf trees such as oak, maple, beech, hickory and chestnut.