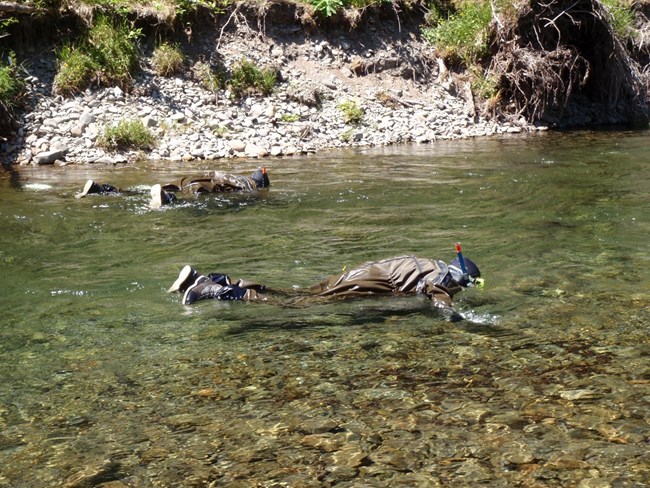 Importance & Issues
Rivers and streams that drain from Olympic, Mount Rainier, and North Cascades National Parks are among the most protected corridors in the lower 48 states. They represent some of the largest tracts of continuous, undisturbed habitat throughout the range of several key fish species of the Pacific Northwest. Fishery resources in many park rivers, particularly those that drain from Olympic National Park, are ecologically and culturally important and contribute to economically important recreational, commercial, and tribal fisheries.

Olympic National Park has 31 native freshwater fish species throughout 12 major watersheds and protects 70 unique populations of Pacific salmonids. These salmonids are critical to ecosystem function, and they link freshwater, marine, and terrestrial ecosystems. Pacific salmonids provide food for over 130 species of aquatic and terrestrial wildlife species, and studies have shown that 20 to 40% of the phosphorus, nitrogen, and carbon in freshwater systems may be marine-derived through carcasses of spawned salmon.

Native fish populations in Olympic National Park are threatened by overharvest, habitat degradation, and competition from hatchery fish. Because of the vital importance of native freshwater and anadromous fish species, the park started an annual monitoring program to assess status and trends of fish populations in the park in 2005.
Parks Monitored
Monitoring Objectives
The seasonal movements, assemblage structure, and relative abundances of fish species are determined by summer weekly snorkel counts in reference sites of each river each year. The objective of repeated snorkel surveys in relatively long sample sites (2.6 to 5.7 km) is to examine seasonal and annual changes in abundances of the primary species. The rationale for intensive sampling (up to 10 surveys per river per year) of reference sites is to account for the high seasonal variability in fish movements and abundances in rivers. To detect seasonal and annual trends in fish communities in reference sites, we rely on repeated and consistent annual sampling using the same methods at each monitoring location.
Specific objectives are to:
Determine trends in juvenile and adult fish species composition
Determine trends in timing of migration of adult fish
Determine trends in relative abundance with an emphasis on key species that have ecological, cultural, or harvest significance
Determine extent of non-native and hatchery salmonids in park waters
Sampling Approach
Fisheries biologists conducted the most intensive monitoring efforts to date of fish communities in NCCN rivers with n=351 snorkel surveys from 2005 to 2010. Fisheries crews snorkeled ~1,400 river kilometers in reference sites of the Bogachiel, Calawah, Dosewallips, Elwha Hoh (South Fork), Skokokmish, Quinault, and Sol Duc Rivers. Biologists made 129,558 individual fish observations during that time. In total, we monitored 14 fish species across the 10 rivers and 11 of the 14 fish species were Pacific salmonids.
Management Applications
Fish communities that inhabit park rivers serve as important benchmarks that define natural limits of variation, and monitoring can identify where management actions are necessary. A key to understanding fish communities in North Coast and Cascades Network rivers is the collection of temporally consistent information on an annual basis.

Olympic National Park biologists assessed high priority management species (e.g. economically important and threatened fish species) with information on the numbers of each fish species, the extent of non-native and hatchery fish invasions, and seasonal and annual trends in federally threatened fish species (e.g., bull trout). From a fish assemblage perspective, this program tracks changes in fish species composition within a river and allows general comparisons and correlations of trends in fish communities among rivers.

This protocol also allows national park service fisheries managers to: 1) develop annual fishing regulations at Olympic National Park, 2) meet in-park and Endangered Species Act compliance requirements designed to minimize impacts to federally threatened fish during road repair projects, and 3) to communicate findings with diverse audiences including decision makers, park visitors, fishing groups, researchers and educators.

*Fish Assemblage monitoring was conducted from 2005 through 2011, but due to insufficient funding, protocol implementation is currently on hold.