Water Quality & Quantity in Shenandoah National Park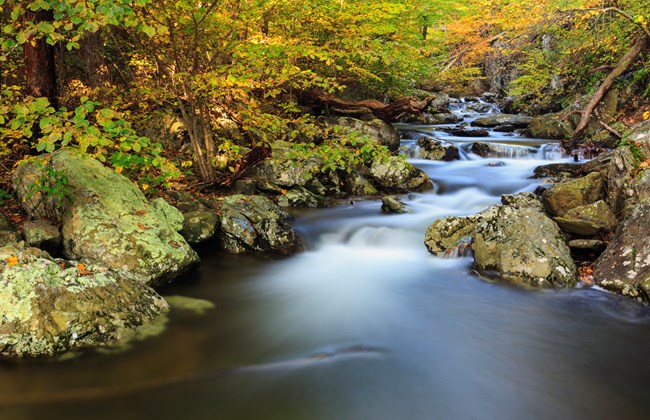 Importance and Issues
The Blue Ridge Physiographic Province within the Mid-Atlantic Network contains portions of the headwaters for three major watersheds: the Rappahannock, the Shenandoah, and the James Rivers. Each of these rivers eventually flows into the Chesapeake Bay. The streams are formed from numerous springs, some of which are located near the ridge tops. The water from these springs is very cool and, on its downhill journey, forms the numerous high gradient and highly oxygenated streams found in Shenandoah. Due to the protection of the surrounding forests, the water in these streams is generally of high quality and low in sediment load.
As a result of high air pollution levels, atmospheric deposition is the greatest threat to protected mountain streams. Acid precipitation, a type of atmospheric deposition that is primarily linked to fossil fuel combustion, is lowering water pH in some extremely sensitive streams both chronically and episodically.
The low buffering capacity of a large percentage of soils in the park provides limited protection from acid deposition. Because of the sensitivity of the streams to acidification, long-term monitoring of stream water chemistry and hydrogeochemical processes is a major component of the Inventory and Monitoring Program.
Monitoring Objectives
Document the status of and trends in water quality as influenced by point source and non-point source pollution (including atmospheric deposition).
Determine the natural range of variability in water chemistry (including bacterial composition).
Detect water quality measures that exceed threshold values and determine their compliance with state and federal water quality standards.
Document the status of and long-term trends in water flow.
Document changes in stream channel characteristics at sampling sites.
Where We Monitor
---
---
Monitoring Documents
Resource briefs are short PDFs summarizing our monitoring programs or results.
Periodically, we publish reports that describe what we are learning in the field. These monitoring reports are more in-depth than resource briefs and include data analysis and a discussion of our findings. 
Protocols describe how we monitor. They include a descriptive narrative of what we monitor and why, our field methods, how we analyze and manage our data, and more. All of our protocols are peer reviewed.
Last updated: October 4, 2018