Lake Water Quality and Aquatic Communities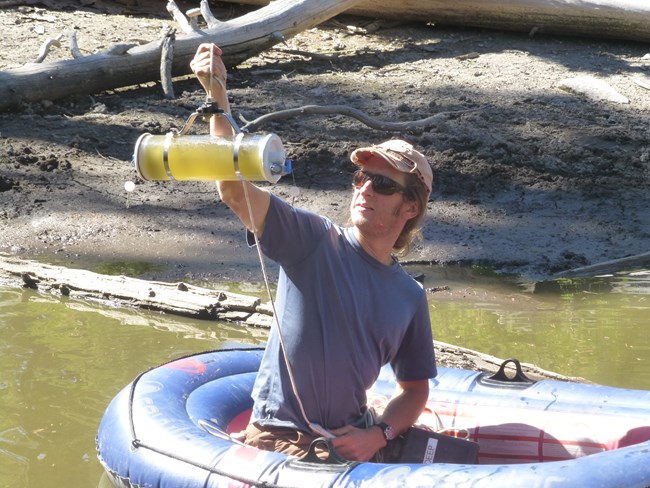 Ponds and lakes are integral components of the Klamath Network landscape. Healthy water bodies are rich in biodiversity and support many ecosystem functions, but lakes and ponds are complex ecosystems that are influenced by a range of local as well as regional environmental conditions. Therefore, lakes can be useful indicators of impacts from disturbances across the landscape, for example nearby impacts, such as visitor use and distant impacts, such as agricultural activities and wildfires.
Since 2013, the Klamath Inventory and Monitoring Network has been conducting monitoring of lakes and ponds in three parks. The protocol combines monitoring water quality characteristics of the lakes, such as the chemical and physical conditions, with monitoring the aquatic communities that the lake supports, such as the fish, plants, and macro invertebrates.
Objectives are to:
Determine the status and trends of ecological conditions in Klamath Network mountain ponds and lakes

Assist parks with "impaired quality waters," also known as "303d" lists as defined by the Clean Water Act

Assist parks with monitoring of "Outstanding National Resource Waters" or Tier 3 waters as defined by the Clean Water Act
We measure/collect:
Physical environment including substrate composition and percentage, depth, area, water clarity, shoreline complexity, and water level.
Water quality parameters including dissolved oxygen, temperature, specific conductivity, turbidity, and pH.
Water anions, cations, dissolved organic carbon, and nutrients.
Algal biomass.
Littoral zone benthic macroinvertebrates.
Visual Encounter Surveys for amphibians.
Fish populations.
Photographs to provide visual comparisons over time.
Last updated: January 25, 2022