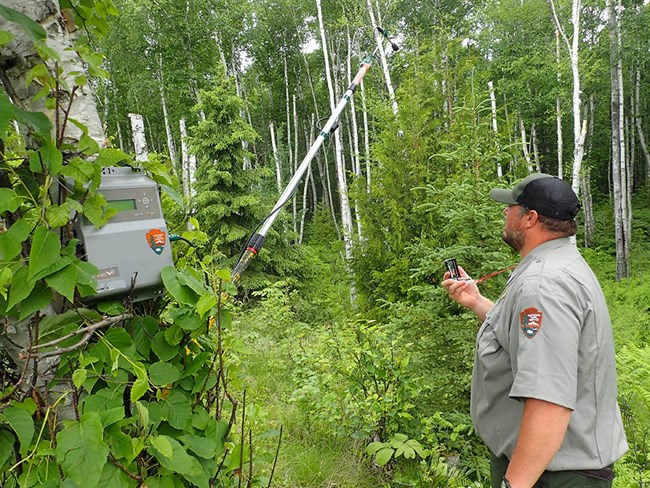 Bats nationwide are struggling to survive against the threats posed by climate change, habitat loss, windmill turbines, and a devastating disease called white-nose syndrome (WNS).

Based on published range maps and previous surveys, at least nine species of bats are known or likely to be present in the Great Lakes Network parks:
Big brown bat (Eptesicus fuscus)
Eastern red bat (Lasiurus borealis)
Hoary bat (Lasiurus cinereus)
Silver-haired bat (Lasionycteris noctivagans)
Little brown bat (Myotis lucifugus)
Northern long-eared bat (Myotis septentrionalis)
Indiana bat (Myotis sodalis)
Tri-colored bat (Perimyotis subflavus)
Evening bat (Nycticeius humeralis)

Bat monitoring in the Great Lakes Network parks is supported by dedicated funds from the National Park Service to address WNS-related issues across the country.
Long-term Monitoring
Full spectrum acoustic detectors capable of recording bats' ultrasonic calls are set up in the network parks to monitor bat activity, identify what bat species are present, and determine seasonal activity patterns.
Our partners: