Golden Eagles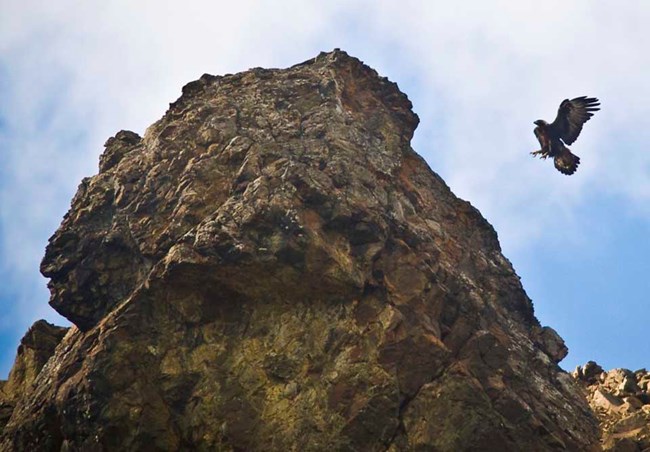 When it comes to monitoring animal species in the Central Alaska Network, we chose species that are spread across the trophic levels of park ecosystems. By doing this, we will have a better chance of observing change wherever it may come. We can try to forecast what change may occur, but it is harder to predict precisely where it will happen, or what form it may take. We chose three raptor species for monitoring across the network. Golden Eagles are monitored in Denali National Park and Preserve, Bald Eagles are monitored in Wrangell-St Elias National Park and Preserve, and Peregrine Falcons are monitored in Yukon-Charley Rivers National Preserve.
Denali National Park and Preserve contains one of the highest densities of nesting, migratory Golden Eagles in North America. At least 95 territorial pairs of Golden Eagles occupy territories in the northern foothills of the Alaska Range during the breeding season. The National Audubon Society designated this area as an Important Bird Area because of the high density and substantial number of nesting Golden Eagles.
Golden Eagles are a high trophic-level predator and one of the most common aerial predators in Alaska. Long-term ecological studies of Golden Eagles in Denali have provided essential new information for the management and conservation of this species, particularly for migratory populations. Results of many aspects of Denali's Golden Eagle studies appear in major peer-reviewed ornithological journals and the value of this long-term study extends far beyond Denali's borders. The Denali Golden Eagle study, started in 1987, is the longest-running ecological study of a migratory population of Golden Eagles in the world.

We monitor Golden Eagles in Denali National Park and Preserve to:
Track occupancy of nesting territories and reproductive success;

Identify mechanisms driving trends in occupancy and reproductive success; and,

Document how conditions across the annual cycle affect occupancy and reproductive success.
Contact: Carol McIntyre
Last updated: January 30, 2019