Trail Safe!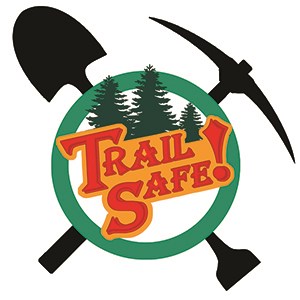 TRAIL SAFE! is a unique safety training program designed specifically for National Park Service (NPS) Trail Volunteers but is useful to everyone! It's based upon NPS Operational Leadership Training, where the Human Factor of safety is explored. Trail Safe! captures the core learning objectives of the 16 hour Operational Leadership course while allowing volunteers to learn from their own homes on-line.

The Trail Safe! series is found below in eight video lessons, each ranging in length from 18 to 40 minutes long. Viewing the entire eight lesson series will take approximately three hours. Watch them over the course of multiple days, or "binge watch" the entire series in three hours—it's up to you—but please watch them in numeric order from Lesson 1 through Lesson 8.

Ice Age Trail Volunteers, please follow these instructions to receive credit:
After viewing each individual lesson, return to the Trail Safe! main page and scroll down to learn how to get credit. The Training Verification Roster is in email format, with several standard data questions for you to answer (where you volunteer, your mailing address, etc.).
Register yourself (and others if you are watching as a group) to receive credit for participation. When you have viewed and registered for all eight individual lessons, each volunteer will receive a Trail Safe! pin and a SPE/GAR card in the mail for your use in the field. Not sure what a SPE/GAR card is? You will after viewing the Trail Safe! series! Thank you for helping to make the Ice Age National Scenic Trail one of the safest work environments for NPS Trail Volunteers like yourself.
OTHER VIEWERS: Due to the increased popularity of Trail Safe!, completion materials supplied to Ice Age Trail volunteers can no longer be offered to other viewers. Please enjoy the videos and report your completion to your park supervisor for any local credit or participation tracking that may be available.

Ready to start? Simply select which lesson you want to watch from the choices below. Click the "play" arrow and in just a few moments your Trail Safe! lesson will play automatically. To turn Closed Captioning on or off, click the CC button on the video.

Audio Description versions are available. Please be sure you are selecting the appropriate version for your needs.
Trail Safe Lesson 3 - Error & Accident Causation

Duration:

38 minutes, 45 seconds
Windows Version

Duration:

23 minutes, 30 seconds
Thank you for your participation in the Trail Safe! video training series.
Ice Age Trail Volunteers: In order to receive credit for your participation, please fill in your answers to the following questions (copy and paste the following template questions in your return email message):
1.Which video lesson did you just complete viewing (i.e. : #1, #2, #3…)?
2.Name of the Trail where you volunteer (i.e.: Ice Age NST, or specify if other).
3.Name of the Trail Chapter (i.e.: Indian Head, Dane County, Trail Wide, etc.).
4.Your name and full mailing address, so we may send your course completion materials to you (i.e.: Jane Smith, 123 Maple Street, Anywhere, USA 12345).
5.Names and addresses of others if you are viewing this lesson in a group setting.
6.Optional: Please let us know what you found most useful about this lesson.
7.Optional: Please let us know any comments or suggestions you have about this lesson.
Please email your responses to the above questions to: daniel_watson@nps.gov (please include underscore between first and last name). Please title your email: "Trail Safe Training Reply"
Thank you, and enjoy the rest of the video series. Upon registering your completion for the entire eight lesson series, you'll receive your Trail Safe! pin and risk assessment card via mail.
Last updated: February 16, 2022