Passport Cancellations Stamps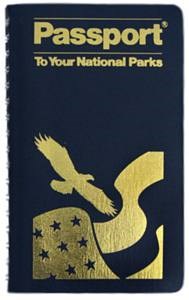 Are you looking for another adventure?
Using the "PassportTo Your National Parks" is a great way to record your travels along the Ice Age NST or when you visit one of the Ice Age National Scientific Reserve Units. Each time you visit one of the locations listed below, take your passport book to the "Cancellation Station" typically found in the Visitor Center and ink stamp the date with the official cancellation.
Oops! Ok, so you are in the Visitor Center and forgot your Passport? No worries. They should have "Oops, I forgot my passport" sheets of paper. Simply ink stamp the date on this and add it to your book in the future.
Ice Age National Scenic Trail Passport Stamp Locations:
National Park Service Office (Cross Plains, Wis.) 608-798-8700
Chippewa Moraine State Recreation Area (New Auburn, Wis.) 715-967-2800
Devil's Lake State Park (Baraboo, Wis.) 608-356-8301
Interstate State Park (St. Croix Falls, Wis.) 715-463-3747
Northern Kettle Moraine State Forest (Reuss Visitor Center, Campbellsport, Wis.) 262-626-2116
Saint Croix National Scenic Riverway (St. Croix Falls, Wis.) 715-483-3284
Ice Age National Scientific Reserve Passport Stamp Locations:
National Park Service Office (Crosss Plains, Wis.) 608-798-8700
Devil's Lake State Park (Baraboo, Wis.) 608-356-8301
Horicon Marsh Wildlife Area (Headquarters, Horicon, Wis.) 920-387-7860
Interstate State Park (St. Croix Falls, Wis.) 715-463-3747
Mill Bluff State Park (Camp Douglas, Wis.) Summer- 608-427-6692, Off Season- 262-626-2116
Northern Kettle Moraine State Forest (Reuss Visitor Center, Campbellsport, Wis.) 262-626-2116

Last updated: November 13, 2020