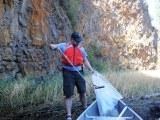 Looking for how to get involved at Ice Age Floods? Browse through the website navigation or use the search tool to find opportunities.
If you are looking to volunteer, check out our
Partners
page.
NPS Centennial
The National Park Service turns 100 on August 25, 2016. As we lead up to the centennial, we invite you to participate in Find Your Park Experiences to learn, discover, be inspired, or simply have fun in national parks.
Partners
Get involved with our partners on the trail.
Work With Us
We encourage all interested and qualified persons to apply for jobs. We want a workforce that reflects the diversity of America.