Operating Hours & Seasons
Hubbell Trading Post NHS is closed until further notice per the Navajo Nation Public Health Order 2020-021
Park Hours

Summer hours: 8 am to 6 pm from mid-May to mid-October.
Winter hours: 8 am to 5 pm from mid-October to mid-May.
Entrance gate and Trading Post open daily 8AM to 5PM. Visitor Center closed Sunday and Mondays; open Tuesday thru Saturday from 9AM-12PM and 1PM-4PM.

Please remember that Hubbell Trading Post NHS and the Navajo Nation are on Mountain Daylight Savings Time between from March thru November. The Navajo Nation includes parts of Arizona, New Mexico and Utah. So, if it is 9 am at Hubbell's, than it is 8 am in Arizona.

Feel free to walk around and visit the barn, animals, guest hogan and trading post.
Pets not allowed in buildings.
Leashed pets allowed in front parking lot area.
No smoking withing 30 feet of all historic buildings.
The visitor center offers new interpretive exhibits on the Hubbell Family, Rugs, Trading Post, Sheep, and the Long Walk. This is also where your guided tour for the Hubbell Home begins.
Be aware when a park ranger is conducting a house tour, the visitor center will temporarily be closed. During this time, you are more than welcome to walk the grounds behind the trading post and get familiar with the homestead.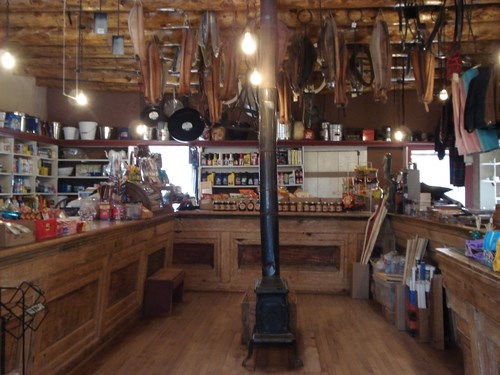 Hubbell Trading Post and Park Store
For over 100 years, community members and visitors to Ganado patron Hubbell Trading Post. Artists and weavers come from all over to trade their crafts for household items, groceries and cash. Stop by and shop for groceries, dry goods, rugs, jewelry and more. Stay awhile and enjoy a cup of Arbuckles' Coffee.
If you're looking for books, postcards or souvenirs, the park store is located inside the trading post. Become a member of Western National Parks Association and enjoy a 15% discount on items in the park store. The discount does not apply to groceries or arts and crafts.


Last updated: August 19, 2020