Basic Information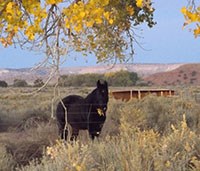 Welcome to Hubbell Trading Post National Historic Site
**Please note the Navajo Nation observes Mountain Daylight Saving Time from March through November while the rest of Arizona observes Mountain Standard Time. When it is 1 p.m. in Flagstaff, Arizona it is 2 p.m. at Hubbell Trading Post.**
When the Visitor Center reopens, check out the new interpretive exhibits that explains why Hubbell Trading Post is a National Historic Site. Ask at the Contact Station about what there is to do and see. Plan on spending at least one hour to visit the trading post and surrounding homestead.
Join a peek of the historic Hubbell Home where the family of John Lorenzo Hubbell lived.
Wander the grounds of the Hubbell family homestead and see the barn, bunkhouse, guest Hogan, historic farm equipment, horse, chickens, and Navajo Churro sheep.
Explore the oldest continuously operating trading post in the American Southwest. Shop for authentic Navajo rugs, jewelry, and baskets.
Enter the bullpen of the trading post to shop for food and dry goods. Buy a delicious snack for the road.
Watch and listen to the trader buy a hand-woven rug from a skilled Navajo weaver or a craft item from an artisan.
When the Visitor Center is open, watch the Navajo weaver in the visitor center weave a intricate design in a rug.
When available, attend a "Sheep to Rug" workshop to learn about the Navajo Lifeways.
Experience the joy of the holiday season at the annual Luminaria Night in early December.
Last updated: August 7, 2021