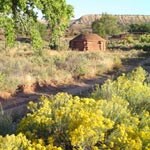 This part of the Navajo Nation where Hubbell Trading Post NHS is located is a Pinyon- Juniper Woodland ecosystem with typical foliage for that environment. As is true in all places precipitation dictates the vigor in which vegetation grows. In dry years plant cover is sporadic, whereas in wet years, the entire ground can be covered with vegetation.

The more prevalent plants at Hubbell are shrub-like and include rabbitbrush, sagebrush and four-wing saltbush. Rabbitbrush, also known as chamisa, is a member of the sunflower family, and is by far the most prevalent and noticeable plant. It exhibits yellow flowers that bloom in the early fall. Native uses include dye, tea, medicines and food. Sagebrush's fragrant aroma after a desert rainstorm is unmistakable. Just brushing the plant lets hikers know of its presence. Sagebrush, also in the sunflower family was used extensively by Native Americans for clothing, food, medicine, and dyes. Sagebrush is highly revered by the Navajo. A member of the goosefoot family, fourwing saltbush, gets its name from the huge flower clusters of seeds, each with two pairs of papery wings. Most likely all Native Peoples of the Four Corners region used saltbush seeds for food. Navajo medicinal uses for the plant are extensive. It is used for aiding in digestion, a cough remedy, a toothache pain reliever, a hair tonic, and a poultice for ant bite. Weavers obtain several shades of yellow dyes from boiling its leaves and blossoms with alum.

Larger trees including the pinons, junipers, willows, and cottonwoods dot Hubbell's landscape. Pinon trees are easy to distinguish with their two-bundled pine needles. Pinon nuts are essential to the diet of native peoples in this region due to their high caloric and protein content. Parts of pinon trees are used medicinally while other uses were more utilitarian. For instance boiled down pitch was used to cement turquoise stones into silverwork. Juniper trees are usually found growing alongside pinons and are comprised of aromatic scale-like leaves. Junipers produce one-seeded berries that turn purple when ripe. Parts of juniper trees have been more widely used by Native Americans than any other wild plant. All local tribes relied on juniper berries for food especially during famine. Juniper is a revered plant by Navajos and used extensively for medicines. The trees are also used to make sweathouses. Willows, the namesake of their taxonomic family (Salix), tend to grow along watercourses and are recognized by their thin flexible branches, narrow leaves, and the fluffy spike-shaped flower catkins. Regional Natives found endless uses for willows including loom anchors, needles, bow, arrows, cradle parts, and snowshoe frames. Leaves and roots produce dyes when boiled in water. Willows are virtual medicine chests containing remedies for upset stomachs, headaches, fevers and inflammation as the bark and roots contain salicylic acid, the main ingredient of modern day aspirin. Cottonwood trees, also a member of the willow family, dominate the landscape at Hubbell in terms of their size, bright green leaves in summer and golden foliage in the fall. They are found along the wash and the irrigation ditches. Navajo people also made weaving loom frames, cradleboards, and snowshoes from cottonwood and they preferred this wood for starting fires prior to the availability of matches. Cottonwood root is the only wood used for Hopi Katsina doll carvings.