Volunteer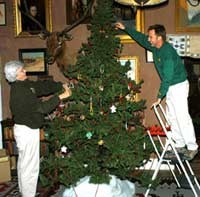 Volunteering at Hubbell Trading Post NHS
Would you like to volunteer at Hubbell Trading Post NHS? We have several openings for dedicated people willing to commit 32 hours a week for a minimum of two months. See below for descriptions of some of the volunteer activities currently available.
We provide a volunteer uniform, park orientation and hands on training. Volunteers can request shared quarters with other volunteers or researchers in the park. Schedules may include working weekends and holidays but we are flexible.
Interested? Complete this Volunteer Application and return it to the Supervisor of the department you want work in.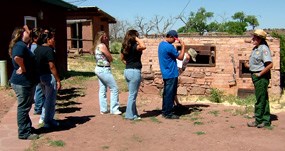 VISITOR USE ASSISTANT
We are looking for volunteers to help with visitor services. Helpful skills include experience and enjoyment with public speaking, gardening, and knowledge of farm animals.

As a Visitor Use Assistant, duties may include, but not limited to: Staffing the information desk, presenting interpretive programs, providing community outreach activities, helping other park staff as needed, occasionally helping to water/feed/clean up after the farm animal and helping with the family garden.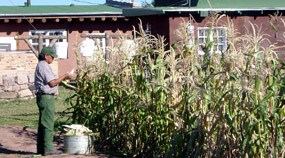 AGRICULTURAL EDUCATOR
We are currently seeking volunteers to manage the park's agricultural program. The position will care for the park's livestock, cultivate the family garden and help with an agricultural interpretation program. Since 2005, the park has maintained an agricultural program in the Hubbell family homestead and began sharing the knowledge with park visitors so that they will understand and appreciate the park's cultural landscape.
Helpful skills for this position include experience in farming or gardening and familiarity with farm animals, including horses, mules, llamas, chickens, ducks, cats, dogs, sheep and goats. Most of the work for this position will be outdoors. Volunteer must be a self starter, self motivated and able to work independently with little supervision.
This volunteers' duties include, but are not limited to: Watering & feeding animals, cleaning barn/chicken coop areas, keeping track of all necessary feed, repairing fences or corrals, preparing kitchen garden and field/pasture irrigation and occasionally assisting other offices in the park.
Last updated: June 5, 2018