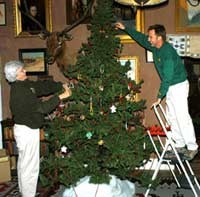 Volunteering at Hubbell Trading Post NHS
Would you like to volunteer at Hubbell Trading Post NHS? We have several openings for dedicated people willing to commit 32 hours a week for a minimum of two months. See below for descriptions of some of the volunteer activities currently available.
We provide a volunteer uniform, park orientation and hands on training. Volunteers can request shared quarters with other volunteers or researchers in the park. Schedules may include working weekends and holidays but we are flexible.
Interested? Complete this Volunteer Application and return it to the Supervisor of the department you want work in.