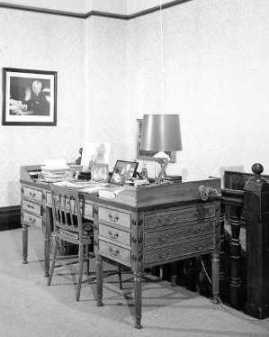 The Historic American Buildings Survey (HABS) is the nation's first federal preservation program, created in 1933 to document America's architectural heritage at a time when many felt it was vanishing. Other important preservation initiatives were just getting underway in the 1930s, such as restoration work at Williamsburg and the development within the National Park Service of historical parks and National Historic Sites.
HABS photographer Jack E. Boucher photographed the Truman home in March 1983, documenting the structure and interior spaces as they were left by Mrs. Truman. Two months later, Harry S Truman National Historic Site was authorized, on May 23, 1983. Until recently, the second floor of the home was inaccessible to public view due to the restrictions placed on the site by Mrs. Truman's will. Images of the second floor rooms can now be seen by visiting the Truman Home Second Floor photo gallery.

To view other HABS documents related to Harry S Truman NHS click on the links below.
Harry S Truman Home, Independence, MO
Harry S Truman Home, Carriage House, Independence, MO
Harry S Truman Farm Home, Grandview, MO
George Wallace House, Independence, MO
Frank Wallace House, Independence, MO
Noland House, Independence, MO