Plants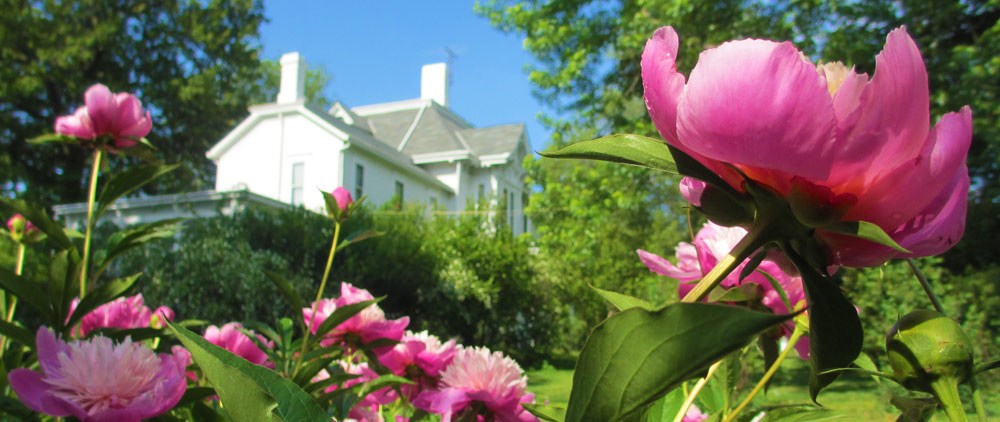 The park preserves and maintains a variety of historical vegetation on the grounds including a wide variety of trees, shrubs, perennials, bulbs, and vines.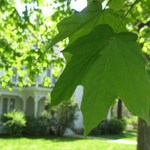 Sugar Maple (Acer saccharum)
Location: northwest front yard, southwest yard
Slow to moderate growth, stout branches, leaves turn shades of red in the fall.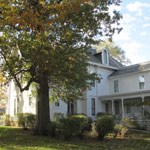 Shingle Oak (Quercus ambricaria)
Location: southeast yard
Largest tree on property, rounded, elm-like crown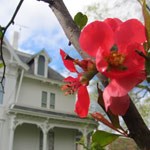 Flowering quince (Chaenomeles speciosa)
Location: northeast yard
Red flowers are produced in the early spring; fruit is produced in the late summer and fall and look like yellow-green apples about 2 inches in diameter.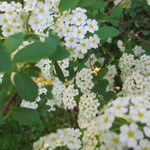 Vanhoutte/Bumalda spirea (Spirea x bumalda)
Location: around Truman Home, southeast and northwest lawns
Exhibit an open, rounded, natural look, weeping of branches. Bloom in late spring with white clusters so numerous as to wreath the branches.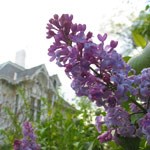 Common lilac (Syringa valgaris)
Location: Around Truman Home, fence line, next to Wallace Homes
Fragrant lavender, cone-shaped clusters of flowers on the tips of branches in April and May.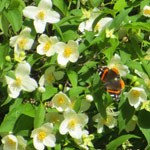 Sweet mock orange (Philadelphus coronarius)
Location: northwest of Truman Home, next to back porch
Fragrant white flowers, 1 to 2 inches across with a scent of orange blossoms; blooms in late spring.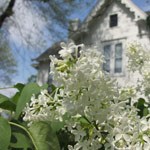 Amur Honeysuckle (Lonicera maackii)
Location: southeast lawn, fence
Light colored flowers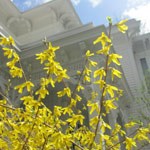 Showy border forsythia (Forsythia intermedia)
Location: northwest home, southwest fence
Four-petaled yellow flowers appear in early spring before leaves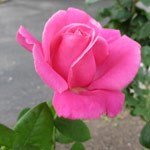 Modern Roses (Rosa)
Location: northeast yard, visible from back porch
Fragrant, colorful (varieties of choice will exhibit red or pink blooms throughout the summer
Perennials, Bulbs, & Vines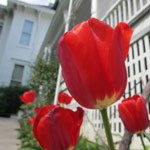 Tulip (Tulipa)
Location: southeast walks, along back driveway
Red and bright pink and marbled red and pink mix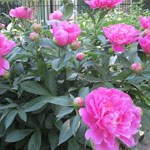 Common Peony (Paeonia officinalis)
Location: northeast yard, both sides of driveway
Peonies produce well-grown clumps 3 to 4 feet tall with large white/pink to lavender flowers in the spring.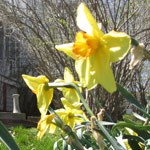 Daffodil (Narcissus)
Location: northeast yard, next to driveway
Spring- flowering plants, hardy to cold and heat, produce cup-shaped center flower, white or yellow in color.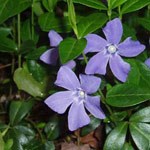 Periwinkle (Vinca minor)
Location: southeast, along walkway and home, groundcover
Dark green oblong leaves; produces lavender-blue flowers in the spring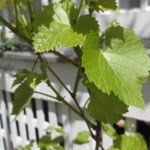 Amur Grape (Vitus amurensis)
Location: southeast, on back porch
Dense mat of green foliage and grapes develop in fall
Last updated: April 10, 2015