Plaster and Lath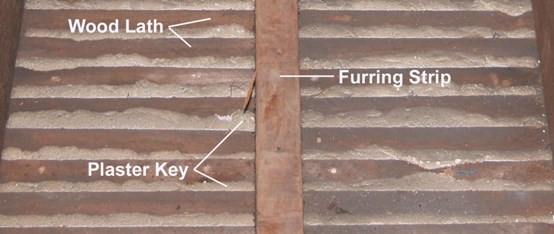 Plaster was the dominant interior wall finish until the 1940s due to its versatility and strength. The Truman Home walls and ceilings were constructed using plaster and wood lath.
Lath provided a means of holding the plaster in place. Wooden lath was nailed at right angles directly to the structural members of buildings (the joists and studs), or it was fastened to non-structural spaced strips known as furring strips.
Wood lath is usually made up of narrow thin strips of wood with spaces in between. The plasterer applies a slight pressure to push wet plaster through the spaces. The plaster slumps down on the inside of the wall, forming plaster "keys." These keys hold the plaster in place.
From: The Preservation of Historic Architecture, Department of the Interior, 2004
Last updated: April 10, 2015