Injecting the Adhesive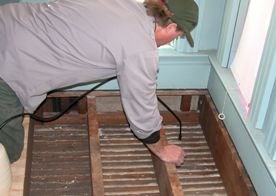 Drop cloths are placed on floors below the ceiling receiving treatment to protect carpets from excess wetting agent that may come through the plaster. A staff member watches from below for liquid flowing from the plaster cracks.
The wetting agent prepares the plaster surface for bonding with the adhesive. It is injected into the drilled holes with an ordinary pressure sprayer.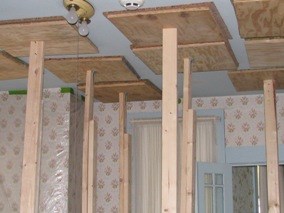 Shoring, made from two-by-fours hinged to plywood squares, presses the ceiling plaster and lath system against the wood framing during adhesive injection. The shoring is installed after the wetting agent is injected and remains for at least 24 hours while the adhesive cures.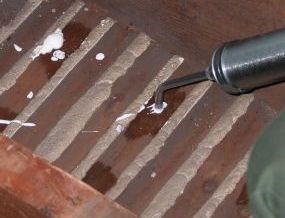 The adhesive is mixed and injected into each drilled hole using a large caulk gun until the excess flows out from between the lath and plaster keys. The thickness can be adjusted depending on the void size.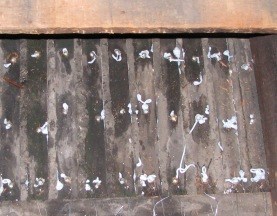 Adhesive injection is completed. After the curing period, the ceiling is inspected for proper adhesion. The shoring is removed and interior finishes are reinstalled.
Last updated: April 10, 2015