Bess Truman: Childhood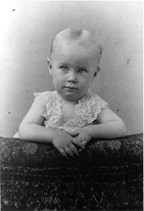 Elizabeth Virginia Wallace was born February 13, 1885 in Independence, Missouri. Her parents, David and Madge (Gates) Wallace, were both members of prosperous families and were highly regarded in the community.
Bess was a pretty child, with curly blonde hair and blue eyes. From an early age she was referred to as Bessie, a nickname that would later be shortened to the familiar Bess. As a young girl, she was described as good humored and outgoing. She developed an interest in the outdoors and sports, which followed her into adulthood. She enjoyed tennis, ice skating, fishing, horseback riding, and swimming. She also played third base on her younger brothers' baseball team.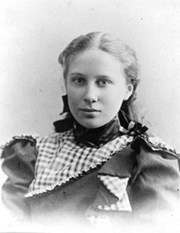 Bess graduated from Independence High School in 1901. Her father's financial difficulties initially kept her from attending college. David Wallace's increasing debt and alcoholism led to his suicide in 1903. The stigma of his untimely death affected Madge Wallace deeply and from that point forward she relied heavily on Bess for companionship. The family spent a year in Colorado and then returned to Independence and moved in to the large Gates family home at 219 North Delaware Street (Truman Home).
In 1905, Bess enrolled in the Barstow School in Kansas City, a college preparatory and finishing school. Bess remained there for a year, excelling in her studies and playing on the basketball and track teams. At age twenty, she attended numerous receptions in the community and began receiving callers. She organized a bridge club and was active in The Needlework Guild, a charitable organization. By participating in such activities, Bess Wallace was fulfilling the expected role of an upper-middle class female in the early twentieth century.
Last updated: April 10, 2015