Artifact of the Month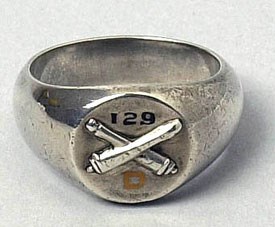 Military Ring

Military seal ring of Battery D, 129th Field Artillery, National Guard.

After being promoted to captain, Truman took command of Battery D on July 11, 1918. The unit had such a bad reputation that Truman admitted years later that he was so scared the first time he spoke to the unit, he couldn't say a word. The men of Battery D came to respect Truman through his fair and even-handed leadership. They later became his greatest political supporters after the war.

Last updated: April 10, 2015