Plan A Field Trip
Effective April 1, 2019, fees are being eliminated at Harry S Truman National Historic Site for tours of the Truman Home. Thus, the process for making an educational group reservation is simpler, but there are still some important resource-preservation conditions we must meet.

Harry S Truman National Historic Site accepts advance reservations (only) for educational groups.

Please note:

*For the preservation of the Truman Home and its contents, tours are still limited to 8 per tour. For school groups, we can accommodate three tours of 8 participants, or 24 total.

*Education group scheduling is based on staffing availability.

*Please inform the Ranger when making the reservation if there is a need for the wheelchair lift at the Truman Home. The lift can only be operated when two staff members are available to operate and cannot be used in wet conditions, for the safety of staff and the visitor. There is are multiple steps involved in the tour experience.

If you have any questions, and to begin the reservation process, please call (816)254-4112, ext. 1265.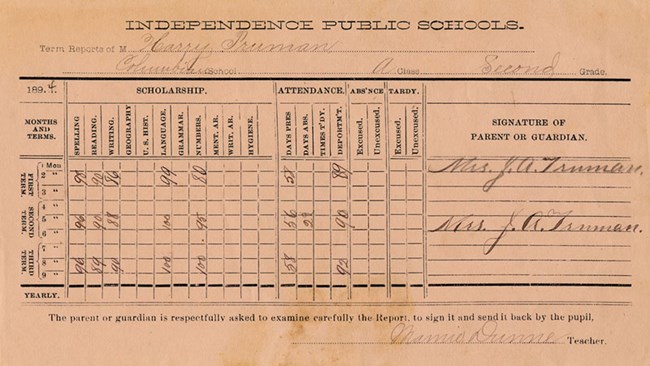 Unfortunately, few papers from Harry S Truman's school years survive. Thankfully today's students will have their educational experiences documented more fully!


Last updated: August 30, 2019