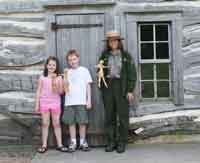 Are you wanting a vacation that does not include miles and miles of driving? If so, a "staycation" is for you. A "staycation" is a vacation while staying near home. And with a national park in your backyard it could be just what families in Nebraska, Iowa, Missouri, and Kansas need this year. "Not only will you save gas money but there is no charge to visit the site or attend any of the programs," said Superintendent Mark Engler.
"I hope many people in the surrounding area visit the monument this summer. I think they will find it interesting. And we have designed our schedule with something special for all ages and interests," said Engler.
Throughout the week Park Rangers will present a variety of programs including making cornhusk dolls, recitation in one room schoolhouses, a discussion of the Great Plow-up, and a soap making demonstration. "I am excited about the programs we are offering this summer and hope many people take advantage of the information our rangers have to offer," said Merrith Baughman, Chief Ranger. These and other programs are presented throughout the day at the Heritage Center, the Palmer-Epard cabin, and the Freeman school.
The Campfire program series will once again be offered. The first campfire is a presentation on July 4 at 7:30 p.m. by Historian Todd Arrington on "Thomas Jefferson and the American West." "I hope people gain a better understanding of our third President's impact on American agriculture and Westward Expansion," said Arrington. Milford Smith, Odell, will provide music at the first program. A new program will be presented each Saturday starting on July 12 and will continue through August. 23. Campfire programs are held outdoors at the education center. During inclement weather the programs will be held inside.
New this year is the Kids in Parks program which will have activities for six Saturdays beginning on June 28 from 10 a.m. until 12 p.m. "The Kids in Parks program is a nationwide effort by the National Park Service to reacquaint young people with the outdoors and our relationship with nature," said Jesse Bolli, resource manager. Programs will focus on plants, birds, insects, macro invertebrates, and trees and are designed for families with children.