Protect Yourself - Eclipse Safety Tips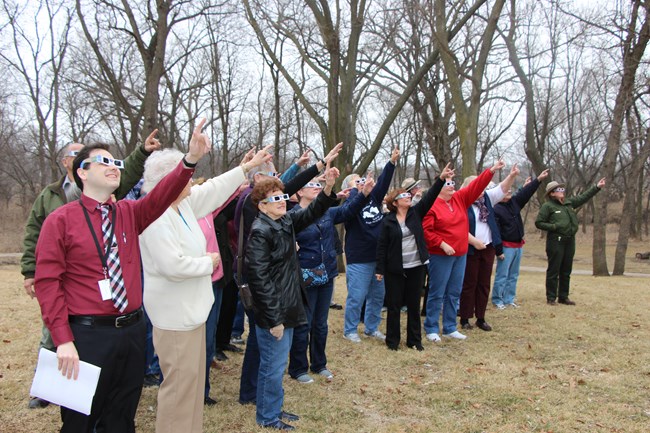 For emergencies, call 911 or the park operator at 402-223-3514
(call 911 between 10 p.m. and 8:30 a.m. Saturday and Monday).
EYE SAFETY
For your safety, never look directly at the sun with the naked eye. A solar eclipse is one of nature's grandest spectacles, but looking directly at the sun is not safe except during the few brief moments when the moon entirely blocks the sun's face.
The only safe way to look directly at the sun is through special-purpose solar filters - i.e. solar glasses and telescope solar filters. Homemade filters or sunglasses are not safe for looking at the Sun.
Always inspect your solar filter before use; if scratched or damaged, discard it.
Always supervise children using solar filters.
It is safe to remove your solar filter only when the moon completely covers the sun's bright face, and it suddenly becomes dark.
As soon as the bright sun begins to reappear, replace your solar viewer to glance at the remaining partial phases.
By following these simple rules, you can safely enjoy the view and be rewarded with memories to last a lifetime.
For more information, visit NASA's eclipse website at
eclipse2017.nasa.gov
and the American Astronomy Society's eclipse website at
eclipse.aas.org
.
WEATHER
August in Nebraska can include high temperatures and humidity; to help stay cool, wear sun screen, dress in light-colored clothing, and stay hydrated by drinking plenty of fluids.
The Homestead Education and Heritage Centers are air-conditioned. Shade tents will be provided at the Heritage Center.
MORE SAFETY TIPS
Mosquitoes and ticks inhabit the prairie. You may want to consider applying insect repellent and wearing long pants and closed-toed shoes.
Poison Ivy can be found in different areas of the monument; stay on trails or in mowed areas to avoid this plant.
Walking surfaces can be uneven, so watch your step.
Need first aid assistance? Let a park ranger know, visit a first aid station, or come to the information desk in the Heritage or Education Centers.
Last updated: August 17, 2017