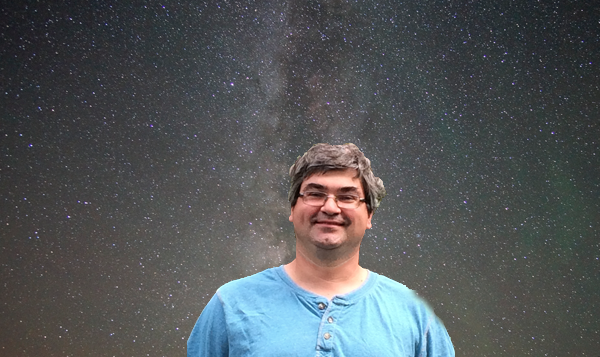 Ryan will be presenting on Saturday and Sunday about Native American Star Lore! Ryan will also be found on site Satuday and Sunday evening to share his love of constellations with visitors.
A few words from Ryan Paul:
In 1981, I got my first pair of glasses. This may not sound like a big deal, but shortly after putting these on, I went outside in the dark. For the first time that I can remember, the stars did not have blurry halos around them and there were many, MANY more of them that I had ever been able to see before. From that point on, I was hooked. I bought books, borrowed books, read magazines, did research of any kind. This was long before the internet so my interest in science, especially anything to do with space, was still pretty limited. Fast forward to 1987. In my 8th grade year, my interest in science finally paid off! I was asked to help the junior high science teacher with a project. A new education tool was coming to my school: a portable planetarium. I knew some of the constellations and was as versed as any 8th grader can be in the workings of outer space. What I was not prepared for was the mythology behind the constellations. I had seen my horoscope in the newspapers but never really understood why they were there. My teacher, started telling stories. Again, I was hooked. When the planetarium came around the next year, guess who was first in line to volunteer. By the time I was a senior in high school, I was the "Starlab Guy". Teachers let me out of class for a whole week to teach astronomy to every class in the entire school K-12. I went on to college, majoring in education, hoping to teach Physics and English. Each year, returning to teach an astronomy unit at the school where I got my start. Since then, I have told these stories to groups of Boy Scouts, campers at Devil's Tower in Wyoming and countless other places. I have been telling these stories for 30 years, adding a little each time to my "program". As I continued to learn more mythology, I began to focus on Native American mythology rather than the traditional Greek and Roman myths that most people are familiar with. Every star has its specific place in the heavens, each placed for a specific reason. Learning how and why the ancient people of this country believed these stories, the lessons they teach and found them important enough to pass on to the next generation is tremendous fun for me. Teaching others these same lessons and watching others look at the sky in wonder, as I did, is why I do what I do.