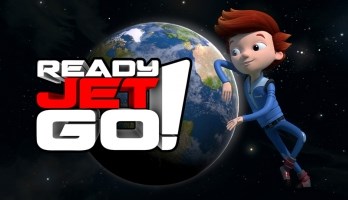 Science and astronomy programs take center stage at Homestead with help from our friends from PBS Kid's animated series
Ready Jet Go!
Join
Ready Jet Go!
Advisor and Jet Propulsion Laboratory Astronomer Dr. Amy Mainzer,
Ready Jet Go!
Show Creator/Producer/Song Writer Craig Bartlett, and the
Ready Jet Go!
Band for an astronomical good time for the whole family!
Sunday, August 20 - 2:00-3:00 p.m. & 4:30-5:30 p.m.
Education Center
Ready Jet Go! will present a program about science and astronomy for visitors of all ages. Experience demonstrations by Ready Jet Go! science curriculum consultant, NASA Jet Propulsion Laboratory astrophysicist Dr. Amy Mainzer.

Enjoy songs from the series played by show creator Craig Bartlett and the
Ready Jet Go! Band. Plus! Show producer Dete Meserve and additional Ready Jet Go! team members will also join for a question and answer time period after the program and an autograph session. Jet Propulsion is also expected to appear!
Monday, August 21 - 11:30 a.m.
Heritage Center
Ready Jet Go! will help lead the crowd through the 90 minutes of eclipse phases through a series of demonstrations, Q&A with Dr. Amy Mainzer, songs from the series, a countdown to Eclipse Totality, and explanations of what to look, feel, and listen for as the shadow of the total solar eclipse descends over Homestead.
What is the animated show Ready Jet Go! about?
Two neighborhood kids -- Sean and Sydney -- befriend the new kid on the block, Jet Propulsion, who just happens to be an alien from planet Bortron 7. Together they explore the solar system and how it affects the planet, while also learning about friendship and teamwork. The series features live-action interstitials with astronomer Dr. Amy Mainzer.