Planning Your Homestead Eclipse Experience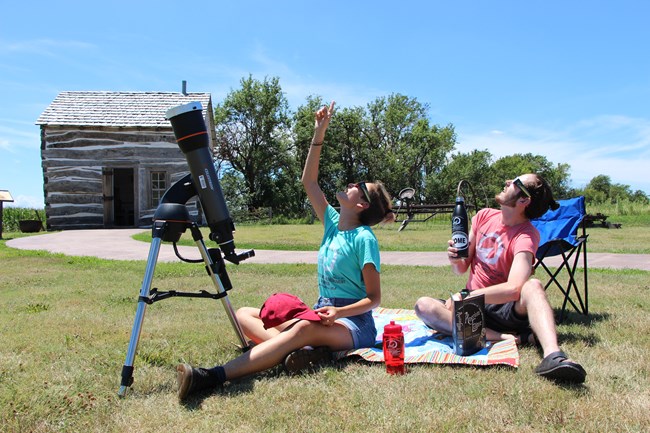 Here are some tips to make your eclipse experience exceptional!
Come prepared: Wear solar eclipse glasses at all times when looking at the sun. If you do not have glasses, glasses will be available on site.
Bring insect repellant, sunscreen, water bottles and snacks. Food Vendors will also be on site. No coolers over 21 quarts. Most vendors will be cash only and there are no ATMs at the monument.
Bring a blanket to sit on or camping chair - think totable and compact if riding the free shuttles.
You have choices of viewing areas - by stages with presentations, music and more! Or in the oldest restored tallgrass prairie in the National Park Service! Or near the historic Freeman School!
Roads may be congested - map your route and have a back up plan. Know where the
FREE SHUTTLE
pick ups are around town. Download any maps you need to your phone, just in case service is disrupted.
Coming with a group? Use the buddy plan - set meet times at specific places in the park in the event cell service is disrupted.
Most of all - bring your sense of wonder. We are all experiencing an amazing natural phenomenon together and Homestead is honored you've chosen this historic National Park site to experience the total solar eclipse.
Last updated: August 13, 2017