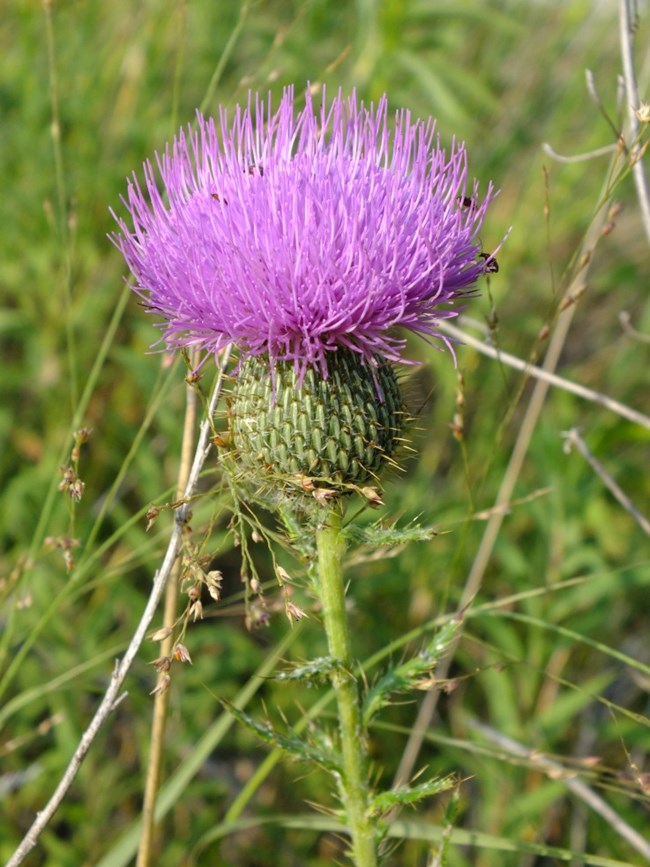 Tall Thistle
Cirsium altissimum
Aster family (Asteraceae)
Homestead National Monument celebrates the Tall Thistle and invites you to visit the prairie to see the Tall Thistle first hand in its natural environment!
Rangers at Homestead National Monument are sometimes asked why all thistles are not removed from the park. The answer to their question is that not all thistles are 'bad.' The Tall Thistle is a native thistle of the tallgrass prairie. Its presence on the prairie is celebrated as a sign of a healthy and biodiverse tallgrass prairie ecosystem.
The Tall Thistle (Cirsium altissimum) ranges from 4-5 feet in height with dark to light purple flower heads. It blooms from July to September, which is later than the invasive exotic Musk Thistle with which it is sometimes confused. The stem is green, with green leaves that are white on the underside. All thistles, including the Tall Thistle, are part of the sunflower family. Tall Thistle is important in the tallgrass prairie, not only to help maintain plant biodiversity, but because it also has value to the wildlife that is vital to the tallgrass prairie ecosystem. Tall Thistle is known to be important to butterflies, songbirds and various insects. According to The Cornell Lab of Ornithology, the American Goldfinch is the strictest vegetarian in the bird world, relying almost exclusively on seeds for its diet. Tall Thistle seeds are a staple of the Goldfinches diet, and it is common to see Goldfinches out in the prairie, perched on Tall Thistle eating to their heart's delight. It is not uncommon for other songbirds to eat Tall Thistle seed either. It is also common to see many different insects perched on Tall Thistle.