Traveling Trunks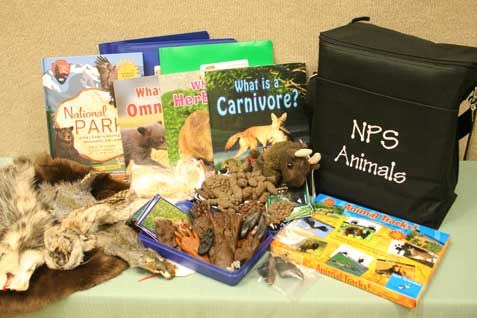 Bring Homestead National Monument of America to your classroom!

Homestead National Monument of America proudly offers seven traveling trunks with curriculum to fit your students needs. Enhance your students learning with these hands on activities.

Additionally, each traveling trunk comes with its own Buddy Bison.
Follow our traveling bison herd online here.
Check out a few of the lesson plans in each trunk below. If it interests you, Read More!
President Lincoln and the Homestead Act (K-3) Read More
- A Letter to Lincoln (Weekly Reader Play)
- Mr. Lincoln's Whiskers
- Make a Log Cabin

The Homestead Act of 1862 (9-12) Read More
- Beginning of the Dream
- The Men Behind the Legislation
- Land of Dreams

Buffalo Trunk (K-6) Read More
- Life in a Plains Camp
- Animal Folktales
- Let's Play Jeopardy

One-Room School Day (3-6) Read More
- Let's Have a Picnic
- Spencerian Penmanship
- Children's Blizzard of 1888

Prairie Animals (K-6) Read More
- What Animal Am I?
- Whose Tracks Are These?
- Who Dung It?
To request a traveling trunk now, click here.

To find a distance learning class to go with your traveling trunk, click here.
Last updated: September 20, 2019