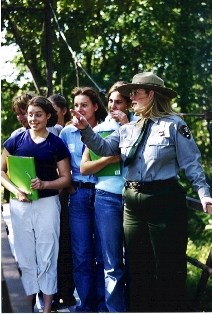 Become a Teacher Ranger Teacher at Homestead National Monument of America!
During the summer of 2010, we had two great Teacher-Ranger-Teachers, one from Sutton, NE and one from Beatrice, NE, who have helped us develop curriculum, programs, and work as a National Park Ranger.
As a Teacher-Ranger-Teacher, you'd learn more about the history of the National Park Service and Homestead National Monument of America by becoming a park ranger for the summer. Primary duties would include: identifying and developing curriculum-based learning activities (50%), preparing and presenting a variety of formal and informal programs (20%), staffing the visitor center and advising visitors about park facilities and resources (20%), conducting independent research on varied topics for the purpose of providing resource education programs (10%).
The deadline to apply for 2011 has passed. Check back to this website for more information about next year's program in February 2012 or contact Tina Miller, Homestead's Education Coordinator, at 402-223-3514.
For additional information about the Teacher Ranger Teacher program in the National Park Service click here.
Other helpful park websites you can visit: www.nps.gov/home and https://www.nps.gov/home/forteachers/index.htm .