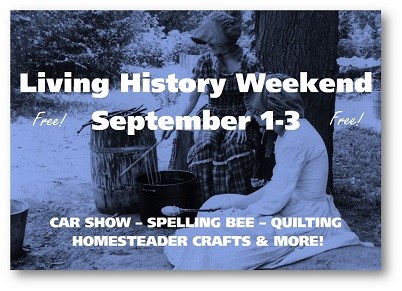 Come to Homestead National Monument of America over Labor Day weekend for 3 days of exciting programs for the whole family! From September 1-3, 2018, each day of the weekend will have a different theme. These FREE living history activities take place at the Homestead National Monument of America Heritage and Education Centers.
Saturday, September 1
Living History Demonstrations
10 a.m. - 4 p.m.
Living History Activities at both the EC and the HC from 10 a.m.-4 p.m. (Includes butterchurning, quilting, cornhusk doll making, clothes washing, candle-dipping, pioneer toys and games.

At both 11 a.m. and 1 p.m. Bob Bryan will present "Farm Life and Poetry" at the Heritage Center. Bob will recite some of his poetry and speak on how his experience as a Nebraska farmer has inspired him.
---
Sunday, September 2
Homestead Era Car and Truck Show
8 a.m. - 4 p.m.
Car Show from 10 a.m. to 4 p.m. at the Education Center. We will also have displays inside the EC including historic fashions courtesy of Yesterday's Lady, baskets, antique salt and pepper shakers, quilts and more.

At 1 p.m. Dr. Preston Shires will present "Prelude to the Homestead Act" at the Education Center. It will discuss preemption and how the Homestead Act corrected some of the issues with previous land grant acts. He will discuss this through the lense of his book "Life in a Casket" set in Brownville, NE in 1857.
---
Monday, September 3
Old Fashion Spelling Bee
10 a.m.
The Old-Fashioned Spelling Bee will be held at the Freeman School from 10 a.m.-12 p.m.

At 1 p.m. at the Freeman School Dr. Sylvie Shires will present on "Old Fashioned Penmanship" a program on handwriting in which guests can try writing with both quill and nib pens.