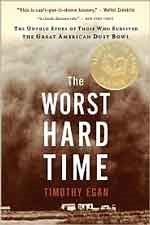 The Worst Hard Time by Timothy Logan
The dust clouds that terrorized America's High plains in the darkest years of the Depression were like nothing ever seen before.
Author Timothy Egan tells the epic story of the environmental disaster that occurred in the "Dirty Thirties."
Author Timothy Egan is a Pulitzer Prize award winning journalist currently working for the New York Times.