Centennial Quilts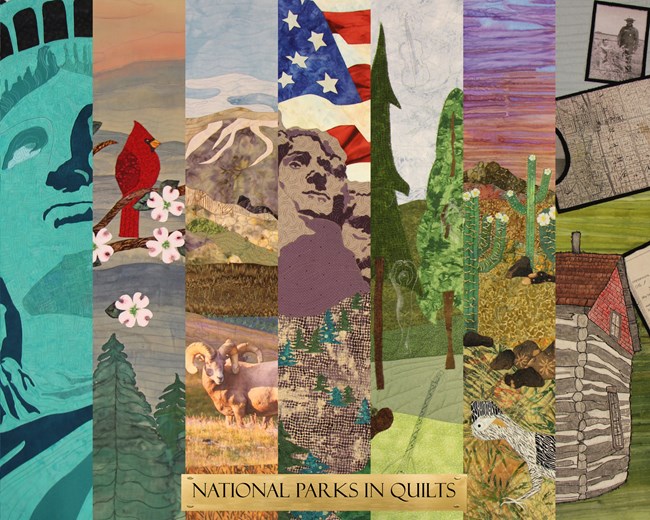 Don't miss this opportunity!
Centennial Quilt Display
Homestead Education Center
April 1, 2018 - April 30, 2018
During the 2015-2017 seasons, National Parks across America displayed 13 art quilts, created to celebrate the centennial of the National Park Service. The quilts were created by Fiber Works, a group of textile artists from the Lincoln-Omaha, Nebraska area. The artists were inspired by their favorite national park site. The quilts have been on a year-long tour of the 13 chosen parks.
The quilts are now set to return to Homestead National Monument of America where they will make their final display during the month of April. The quilts will be on display in the Homestead Education Center. We invite you to Homestead to view the quilts any time during normal business hours. Don't miss your last opportunity to view these quilts in person!
Follow the Journey:

2015
December - Homestead National Monument of America - Nebraska


2016
January
- Joshua Tree National Park - California
February - Saguaro National Park - Arizona
March - Hawaii Volcanoes National Park - Hawaii
April - Statue of Liberty National Monument - New York
May - Wolf Trap National Park
for the Performing Arts - Virginia
June - Wind Cave National Park - South Dakota
July - Mount Rushmore National Memorial - South Dakota
August - Glacier National Park, Montana
September - Rocky Mountain National Park - Colorado
October - Shenandoah National Park - Virginia
November - Everglades National Park - Florida
December - Jefferson National Expansion Memorial - Missouri


2017
February - International Quilt Study Center & Museum - Lincoln, NE
May - William Howard Taft National Historic Site

2018
April - Homestead National Monument of America


To View a Previous News Release:
Last updated: January 8, 2018