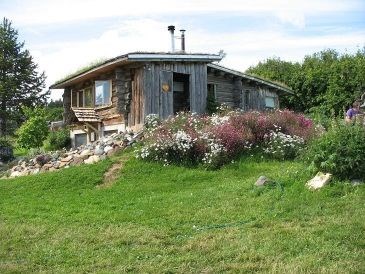 Homestead National Monument of America is excited to announce the Kilcher Family –Alaska Homesteaders - will be featured during Homestead Days 2016 in June. This year marks the Centennial of the National Park Service and as part of this National celebration, we welcome the Kilcher Family to this fun family event. The Kilchers will discuss life on an Alaska homestead and take questions from the public on June 18-19, 2016 at 1 p.m.both days at the Education Center. Part of this family is featured on the Discovery show "Alaska: The Last Frontier". This is a unique event because you will also get to meet the daughters of the family who are not featured on the show. You'll have the opportunity to hear the untold stories of life on an Alaska Homestead, including the stories from a women's perspective.
The Kilcher parents moved to Alaska in 1940 in search of the perfect place to raise a family and create a community. Yule Kilcher documented their homesteading experience with color film footage. Yule also was one of the writers of the Alaska Constitution. "This is a family with a lot of history and full of stories and fun. We are excited to have them join Homestead Days as part of the National Park Service Centennial celebration." stated Superintendent Mark Engler.
There is an exciting line up of music and dance during Homestead Days at Homestead National Monument of America. This program is partially funded by the Hevelone Foundation and Humanities Nebraska, a non-profit organization cultivating an understanding of our history and culture with additional funding from the Nebraska Cultural Endowment.