Pets
Enjoying Hopewell Furnace with Your Pet
Hopewell Furnace National Historic Site has historic buildings, and farm animals that pose unique experiences for you and your pet. Please take a moment to review these guidelines to keep your pet, other visitors, and wildlife safe.
Service Animals
Dogs classified as service animals are individually trained to perform a specific task that assists a person with a disability. Service dogs are legally permitted anywhere that visitors can go. Learn more about NPS requirements for service animals. Emotional support, therapy, and companion animals are not considered service animals and must abide by all pet regulations.
Horses
Pets can come in all shapes and sizes. Whether they are a dog, cat, or horse, we do ask that everyone follows the same rules. Horses are allowed on the horseshoe trail. The trail goes through the village and riders are allowed to be mounted as they go through. Horses are not allowed to leave the horseshoe trail and cannot be tied to any buildings in Hopewell. Horse trailers must park in the upper parking lot of the visitor center.
Safety Tips
Ticks
Ticks are common in Hopewell Furnace, mostly active from late spring to early fall. Check yourself and your dog thoroughly after a visit to the park to prevent any ticks from latching on to you or your dog. To limit your exposure to ticks:
Walk in the middle of trails away from tall vegetation
Wear light-colored clothing so ticks are easier to spotWear pants tucked into socks
Spray your shoes and clothing with repellent.

Heat

Pennsylvania summers can reach upwards of 90⁰ F with high humidity, but your car will get much hotter. Please do not leave your pets unattended in a hot vehicle.
Most of our village's paths are gravel and can get hot. Follow the five-second rule: place the back of your hand on the pavement: if you cannot hold it for five seconds, it's too hot to walk your pet.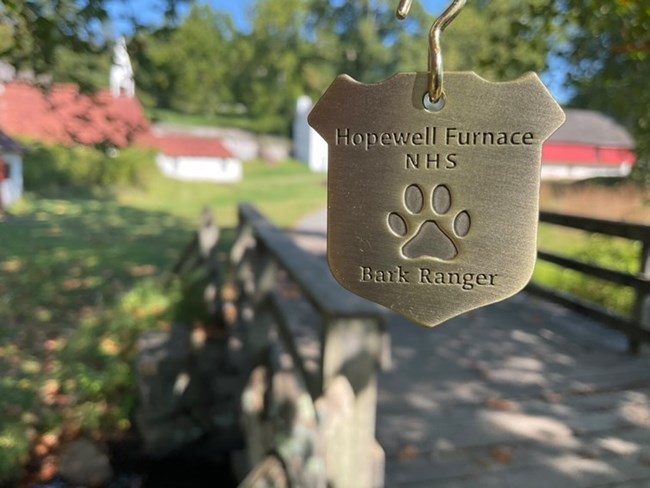 How to become a Hopewell Furnace B.A.R.K ranger
The best way to be a B.A.R.K. Ranger is to demonstrate to other visitors that you know how to explore the park safely and help protect special places like Hopewell Furnace National Historic Area. Pick up your official B.A.R.K. Ranger pledge card at the outside visitor table or from a ranger in the village. You will be asked to complete a few simple activities, learn the B.A.R.K. Ranger Rules and sign your pledge. You can then earn the official B.A.R.K. Ranger badge for your pet. You can learn more by visiting our B.A.R.K. Ranger page!


Last updated: October 26, 2022