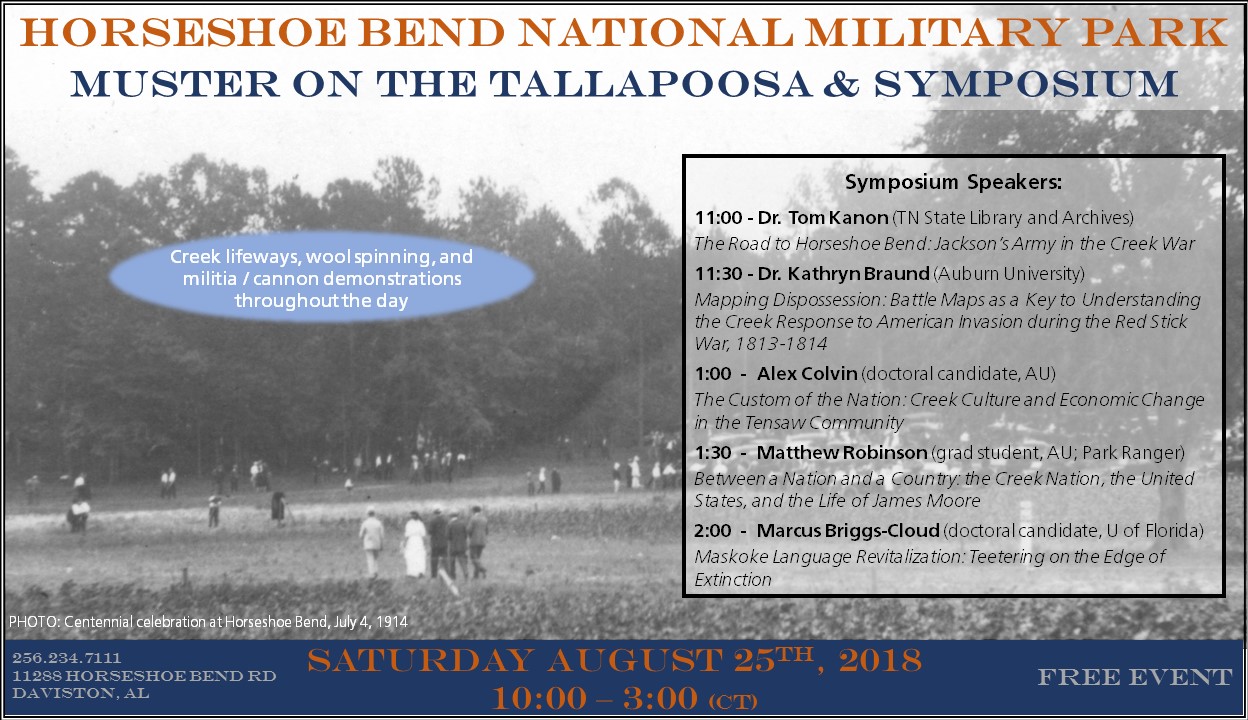 News Release Date:
July 18, 2018
Contact: Stacy Speas, 256.234.7111
Contact: John George, 256.234.7111
DAVISTON, AL
: Horseshoe Bend National Military Park is excited to host the long running "Muster on the Tallapoosa" event on Saturday, August 25, 2018, from 10:00 AM until 3:00 PM. This special event focuses on daily life around the time of the Battle of Horseshoe Bend, black powder weapons firing demonstrations, frontier life, and Creek Indian lifeways. This event also celebrate the fifty-ninth anniversary of the establishment of Horseshoe Bend NMP which occurred on August 11, 1959, and occurs on the National Park Service's 102nd birthday.
As a special treat, the Horseshoe Bend Speakers Symposium returns to the park this year, with some exciting historical topics by experts in our region's history. A total of five presenters will speak inside the visitor center theater between 11:00 am and 2:30 pm.
Creek Indian and Tennessee Militia living history demonstrators will be outside behind the visitor center from 10 a.m.-2:00 pm.
There is something for everyone in the family at Horseshoe Bend on August 25!
Schedule of Events:
10:00 a.m. - 2:00 p.m.        Creek Camp Lifeways Demonstrations
10:00 a.m. - 2:00 p.m.        Tennessee Militia Demonstrators
10:00 a.m. - 2:00 p.m.        Wool spinning demonstrations
10:00 a.m.                            Tennessee Militia Musket Firing Demonstration
11:00 a.m.                             Dr. Tom Kanon-The Road to Horseshoe Bend: Jackson's Army in the Creek War.
11:30 a.m.                             Dr. Kathryn Braund-
Mapping Dispossession: Battle Maps as a Key to Understanding the Creek Response to American Invasion during the Red Stick War, 1813-1814
12:00 p.m.                            6 Pounder Cannon demonstration
1:00 p.m.                              Alex Colvin, doctoral candidate: The Custom of the Nation: Creek Culture and Economic Change in the Tensaw Community
1:30 p.m.                              Matthew Robinson, graduate student and Park Ranger:
Between a Nation and a Country: the Creek Nation, the United States, and the Life of James Moore
2:00 p.m.                             Marcus Briggs-Cloud, doctoral candidate:
Maskoke Language Revitalization: Teetering on the Edge of Extinction
3:00 p.m.                             Creek Camps and Living History Camps close.
The day's activities promise to be entertaining as well as educational. No food is available for purchase in the park so visitors should plan to bring a picnic lunch and plenty of water. There is a picnic area inside the park equipped with tables, charcoal grills, and shelters. There is no admission charge to attend this program.
Visit us at
www.nps.gov/hobe

and on Facebook: Horseshoe Bend National Military Park