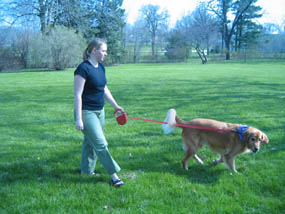 Plan your day
Determine what activities you plan to enjoy before bringing your pet to the park. Pets are not permitted in park buildings. Service animals, such as seeing-eye dogs, are allowed in buildings while performing their work.
Adequate water, shade, and supervision are all important considerations for your pet, especially in the hot summer months. Pets may not be left unattended or tied up while their owners explore the park.
Leash your pet
Pets must be kept on a six-foot leash and under physical control at all times while visiting any area of the park. This prevents encounters between pets and wildlife, protects pets from hazards, and prevents unwanted interaction between pets and other visitors. Retractable leashes should be kept at a maximum length of six feet.
If your pet escapes its leash and becomes lost in the park, please notify park staff immediately.
Dispose of pet waste
Pet waste may not be left on the ground. If you are visiting with your pet, please remember to bring plastic bags or a scoop and determine how you will transport waste from the park.
The park provides courtesy dog litter bag stations along the walkways. You may dispose of your pet's waste in the dog litter bag stations or in any outdoor trash can.