Field Trips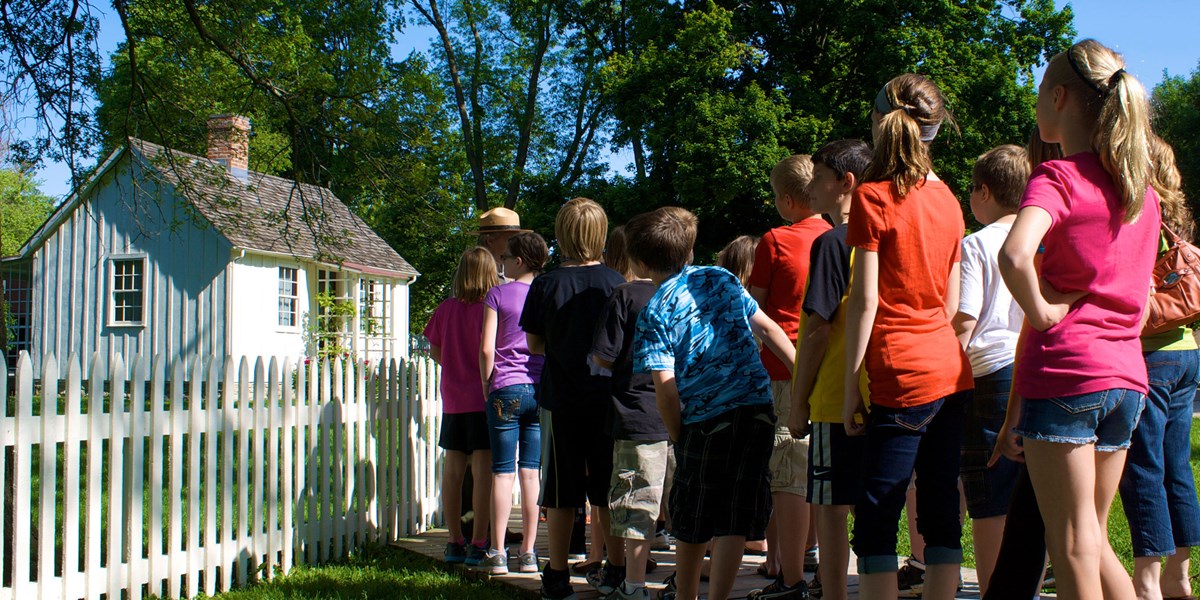 Field trips offer teachers and students a chance to experience up-close historic buildings, artifacts, and landscapes. There is no charge to visit Herbert Hoover National Historic Site. Groups visiting in the spring of 2020 will receive an approximately 20-minute introduction to the park and the story of Herbert Hoover in West Branch in front of the Birthplace Cottage. In the event of inclement weather, the ranger will be waiting for your group in the Friends Meetinghouse. Teachers may reserve start times for their group by following the instructions below. We strongly recommmend that group leaders bring print outs of informational material sent by the park or National Archives, take advantage of park-created lesson plans, download the site's free app prior to your visit, or pick up an iPad with the app preloaded to ensure that your students receive the greatest benefit from their visits.
Plan Your Visit. Find directions, operating hours, and other things to know before you come.

Reserve a Start Time. Reservations can be requested via email or by calling (319)634-7860. Please provide three options of dates and times that will work for your class. IPads may also be reserved at this time.

Apply For A Travel Grant. The Hoover Presidential Foundation offers grants to help with travel costs for field trips to Herbert Hoover National Historic Site. Learn more and apply for a grant »

Prepare. Our curriculum materials help you prepare for a field trip. The park's 12-minute film Adventure & Great Undertakings provides a good introduction to Herbert Hoover's childhood in West Branch.

Dress For The Weather. Prepare to take shelter or move activities indoors during severe weather like thunderstorms, tornadoes, and floods.

Share The Park. Other schools and visitors may visit at the same time. Prepare for crowding at the small historic buildings and follow any directions from park staff.

Keep The Park Clean. School groups may eat lunch at the park's picnic shelters. The picnic shelters have trash containers to help you keep the park clean.

Please email or call Chief of Interpretation Garrett Cloer at (319)643-7860 if you have any questions.
Last updated: December 9, 2019