Halape by James Yamasaki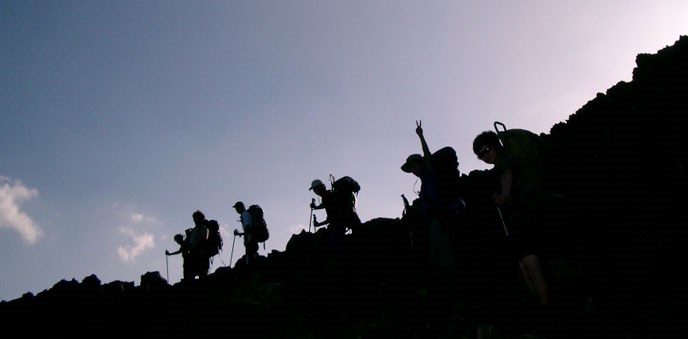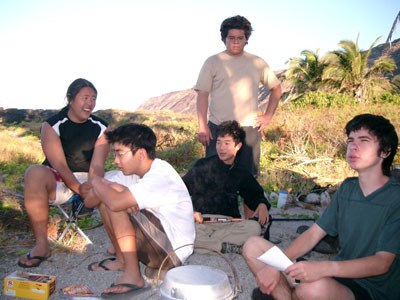 Scout Troop 1 from Honolulu
Hike dates: June 4-8, 2006
All twelve scouts and adults awoke early in the morning to arrive at the airport at 6:00 am. (Richard, Brian, David, Happy, William, Mark, Jarrett C., Jarrett M., myself, Mr. Fukada, Dr. Fujita, and Judge Clifton) Once we got out of the plane and in Hilo, we rented three cars and drove off to Volcano National Park. There, we checked into the park and filled our Nalgenes and Platypus's with the four recommended liters of water. Then, we repacked all of our necessary equipment into our packs, and drove to the trailhead.
At the trailhead it was very windy, dusty, and hot. We ate lunch there while we started to scan the trail. After lunch was finished, the adults drove two of the cars down to the ending of Puna coast trail. Around twelveish we embarked on the trail, which was basically a giant lava field with lots of small shrubs. It was pretty awkward because it was so hot and dry but at the same time I could see the ocean from where we started. The trail was supposedly around 7-8 miles, but it seemed much longer, since we actually got into camp at 6:15 p.m. We had to hike down three cliffs (pali), to get to Halape; which lead to Judge Clifton falling down on the trail. Since Judge Clifton would have a hard time walking again we each carried a part of his pack to lighten his load. When we finally reached Halape it was nearly dark. We had to immediately unpack our tents and cook our yummy freeze dried hamburger helper for dinner. After dinner, everyone was exhausted and shortly fell asleep.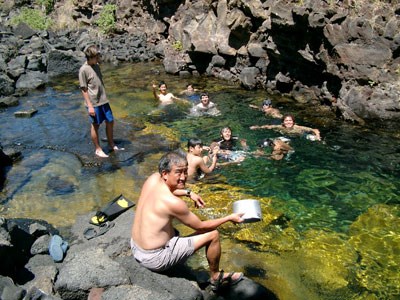 The next day, we woke up at around 6:00 a.m. and got water from the water tank to cook our oatmeal and hot chocolate. After eating and cleaning up our food, we headed for the beach. Our camp was right on the shore line but we had to walk two minutes to get to the lagoon. At the lagoon David, Richard and Brian had a big idea to make rafts and float them across the beach. Soon everyone was assembling rafts from fallen trees and vines. Once they were done we raced them around the lagoon. This boat race was cut short since our crafts weren't good enough to last more than half an hour. After riding on the rafts we went back to camp and ate lunch. Dr. Fujita had picked fresh opihi off the rocks and everyone was eating them. To accompany our opihi we had tuna, tortillas, and trail mix. Lunch was around 11:00 a.m. and after, everyone agreed to take a nap in the shade. While everyone was taking a nap, William, Happy, and I went to the fresh water pond that the adults had found while we were playing with our rafts. The fresh water pool had a deep end as well as a shallow end. We sat in the shallow end because we were scared to go into the deep end; which Dr. Fujita said was 7-9 feet deep. Happy kept reminding us of the dangers that could be lurking in the water such as: fresh water sharks, piranhas, and fresh water eels. William went back to camp to fetch his snorkel mask and Jarrett. When he returned he jumped into the water and swam around. Once we saw that he did not get eaten, we got in. The water was cool and made us refreshed from swimming in salt water all day. After about one and a half hours of us playing in the fresh water, the rest of the troop came in. We returned back to the campsite at 4:00 p.m. to prepare our dinner. That night we had beef stroganoff, noodle soup, and chocolate pudding for dinner; all of it freeze dried. After dinner Jarrett, Richard, Happy and I played a game of hearts. Happy ballooned to 100 very quickly after eating the queen of spades almost every game, and claiming he is winning because he has the most points. At about 8:30 p.m,. it got a little too dark so we all got ready for bedtime and fell asleep.
The next morning we woke up a little later around 7:00, and cooked the same breakfast. Instead of heading to the beach we headed to the fresh water pond, and discovered these small shrimp animals that resembled crayfish. We splashed around in the pool for a couple of hours till much bigger shrimp slowly swam up to the surface. Everyone was frightened and we ran back to camp, afraid the shrimp would attack us. We got back to camp at lunch time and played more hearts while we waited for our lunch of soup and beef jerky to be prepared. After lunch we gathered our belongings and packed up our backpacks. We set off to Keauhou which was only about 1.6 miles away and arrived there at 3:30 p.m. First off, there was a shelter at Keauhou, where some scouts wanted to camp, but the adults wanted to go down to the beach area to check if there was another place to camp. We arrived at one camp spot, but it was way too small, way too hot, and way too close to the beach. So, Mr. Fukada went to explore and found a really nice campsite, which was next to these brackish water pools. The only downside was that the water tank was half a mile away and so was the bathroom. At Keauhou we played inside of the brackish water pools. There was sand so we made sandcastles, raced slippers in the current, and played a game of shark in the water. To play shark, Happy was the shark and the other people were the fish. Both the fish and the shark can only look underwater, and the shark has to find and attack the fish. This game was really fun because peering under the water I could only see about three feet in front of myself. So it was very surprising when I got attacked. That night in Keauhou we all decided to sleep early to wake up the next day at 5:00 a.m.
The next day it was still kind of dark when we awoke. We quickly repacked our bags and hiked up the quick .5 miles to the shelter in Keauhou. This was where we filled up our Nalgenes and Platypuses and ate granola bars and slim jims for breakfast. We left Keauhou pretty early in the morning so we could hike when the sun was down. The hike from Keauhou on Puna Coast Trail to Chain of Craters Road was approximately 10 miles. We assigned Mark to be the point and in one hour hiked a little more than 2 miles! This time on the trail we weren't as exhausted so we could go faster than the first day. After two more hours of hiking we ate lunch in the middle of a lave flow. Everyone was thrilled because we had less than 2 miles left to go. Will took the point and we quickly hiked through the lave field to the parking lot were we saw the cars.
Once in the cars we drove blasting the AC all the way back to Volcano National Park; to check out. Then we went to the KMC convenient store to buy, a 12 pack of cherry Pepsi, bags of Doritos, and ice cream sandwiches. We ate our afternoon snack while we learned that we were going to the KMC buffet for dinner and camping at Namakani Paio. After we finished eating we drove for about 5 minutes to Namakani Paio. The campsite looked like a park, with a pavilion and bathrooms. We pitched our tents and played hearts for three hours. During this time we were allowed to take a nice shower, in the bathroom. After everyone finished their showers we got back in the cars and drove to the KMC cafeteria. There we ate salad, rice, potatoes, noodles, pot roast, chicken, fish and ice cream. At the cafeteria everyone was starving from eating the camp food, so Brian, Happy, and William had a food eating contest. Happy was the first to drop out after eating only one plate of food. Brian and Will continued eating until Brian said he felt sick. William won by eating three and a half plates of food. After drinking and eating a bunch of coke and ice cream almost everyone was on a sugar high. All the scouts were getting pretty rowdy in the cafeteria, so it was time for us to leave. Back at camp we had a giant hearts extravaganza, where everyone was playing hearts from 6-11 pm. Almost everyone was trying to shoot the moon which meant fast games of people reaching one hundred in about six hands. Eventually after everyone got bored with playing hearts, we retired to our tents and got a good night sleep.
We awoke the next day and repeated what we did the previous night. Scouts and adults had multiple games of hearts and team trumps. We played while we ate our breakfast and lunch. We stayed at the park for a couple of hours, and then we hopped back into the cars and drove into the town. There we visited the mall and could buy fast food and other snacks. After the mall stop we visited Big Island Candies on the way to the airport. We got on the plane and were greeted at Honolulu airport by our parents at 4:15 p.m.

Text by Scout James Yamasaki
Trip date: June 4-8, 2006
Last updated: February 12, 2013