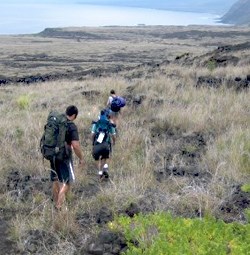 Hike to Keauhou (near Halape in Hawai'i Volcanoes National Park) - May 22 to 23, 2009
1:00 pm - At the start of the trail. Nice day for hiking: very cloudy. Excited
2:00 pm - Finished the first 2 miles in 1 hour. Nice. Gonna head down the first cliff now. Looks like we might have cloud cover the whole hike today.
3:50 pm - 4.8 miles into the trail now. Feet are starting to get sore, but not too bad. When you stop, this is possibly the quietest place on earth.
5:10 pm - 7 miles later and we're at a small beach on the volcano's coast call Keauhou. I'm going snorkeling!
GPS COORDINATES FOR KEAUHOU: N 19 degrees 15.984' and W 155 degrees 14.020'
7:00 pm - the sun has just gone down now. Snorkeling in the protected area to the left was great. Some of the best coral on the island. Tents are set up on a sandy patch near the water.
9:00 pm - without much artificial light our group is heading to bed. A little too cloudy for stars tonight. Hope it doesn't rain!
---